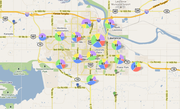 A set of interactive Google maps providing a breakdown of crime in Lawrence in 2011.
A former Kansas University student pleaded guilty to aggravated battery Thursday in a case where a woman alleged she was sexually assaulted at a KU fraternity last year.
Andrew John Hansen, 19, admitted Thursday in the plea Thursday afternoon that he had touched the 18-year-old woman in her vaginal area the night of Aug. 21.
District Judge Peggy Kittel convicted him of the charge. A trial in the case was scheduled for next week.
Prosecutors initially charged Hansen, who is no longer a KU student, with one count of rape, which carried a more severe punishment. Chief Assistant District Attorney Amy McGowan said as part of the plea agreement attorneys would ask Kittel to sentence him to 100 days in jail and serve three years of probation.
The female KU student, who is now 19, reported to Lawrence police that she was at the Delta Chi fraternity house, 1245 West Campus Road, and fell asleep in a room there.
"Once I realized she was non-responsive, I stopped," Hansen told Kittel.
McGowan said prosecutors had evidence the woman woke up and alleged Hansen, who was an acquaintance, was touching her.
Defense attorney Tricia Tenpenny said in court both Hansen and the woman had consumed alcohol that night.
The woman called Lawrence police the next day when she returned to her residence hall, and officers arrested Hansen after they interviewed him.
Among other conditions of the plea agreement: Hansen must perform 100 hours of community service, complete a sex offender evaluation and have no contact with the victim.
According to state sentencing guidelines, he could face from 31 months to 11 years in prison, depending on his past criminal history, but both sides indicated they would ask Kittel to sentence him to probation.
McGowan told Kittel prosecutors had notified the victim about the plea agreement in the case.
Even though he won't be sentenced until Sept. 30, Hansen is scheduled to begin serving his jail sentence later this week.
National fraternity officials have said they will not conclude their own review of the matter until the criminal case is resolved.
Copyright 2018 The Lawrence Journal-World. All rights reserved. This material may not be published, broadcast, rewritten or redistributed. We strive to uphold our values for every story published.