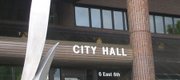 Subscribe to the email edition of Town Talk and we'll deliver you the latest city news and notes every weekday at noon.
News and notes from around town:
• As we reported earlier this week, plans are in the works for a major expansion of the Zarco convenience store at Ninth and Iowa streets. Once completed, the project may give you the chance to fuel up your vehicle for $1.50 per gallon. No, the plans don't include a time machine. But at the moment, they do include Lawrence's first retail Compressed Natural Gas fueling station. Scott Zaremba, Zarco president, confirmed to me that he wants to find a way to make compressed natural gas a feasible fuel alternative in the city. I got the sense that the CNG station is not a done deal. Zarco would feel more comfortable going forward with the CNG idea if a business or organization would step forward and convert its fleet into CNG vehicles. There might be a few private businesses that would consider that (it can cost $5,000 or more per vehicle for the conversion), but my guess is the city of Lawrence will be asked to take a hard look at the possibility. The city last year passed on the idea of converting its public transit fleet over to CNG — in part because building a fueling station for buses would have been expensive. But the city has lots of other vehicles — everything from police cars to trash trucks — that it soon will be buying that could be candidates for CNG. With his location at Ninth and Iowa streets, I'm sure Zaremba will try to convince nearby Kansas University to consider a switch as well.
Price will be the selling point. CNG isn't sold on a per gallon basis like gasoline. (Usually it is sold by the cubic foot.) But you can compare the two. Just look at how much energy a gallon of gasoline produces and then determine how much CNG it would take to provide the same amount of energy. (I'm not doing the math this early in the morning.) But, according to Zaremba, you'll currently pay about $1.50 for the CNG equivalent to a gallon of gas.
If the idea takes off, it probably will be for users who are driving their vehicles primarily around Lawrence, since CNG stations are hard to find in other communities. If the CNG idea doesn't work out, Zaremba said he may consider replacing it with an electric car charging station.
As for other details of the project, plans call for the former BP station at 914 Iowa to be expanded by about 500 square feet. The existing Zarco station then would be torn down. The new store would include a drive-thru for a new coffee and sandwich shop, plus the site would feature a larger "tunnel-style" car wash. Plans — which were developed by Lawrence architect Paul Werner — also would eliminate two of the four curb cuts along that stretch of Iowa Street. Zaremba — who also owns the adjacent Earth Friendly Fuels station at Ninth and Iowa — plans to green the project up by using solar panels on the roof of the store's building.
Zaremba hopes to get moving on the project soon. The plans currently are under review by the city's planning staff.
• Folks hoping for a new convenience store south of Lawrence on the new U.S. Highway 59 should be prepared to wait a bit. As we reported in May, Zarco has filed plans to rezone property on the east side of Highway 59 and just north of County Route 460 for a convenience store. That is near where Zarco operated a station for years before the Highway 59 widening took that spot. But Zaremba tells me that while the rezoning is moving forward, the store likely won't for another two years or so. He said he wants to wait until the road project is entirely finished and then monitor traffic patterns before making a final decision.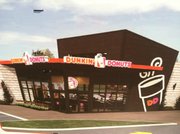 • Brace yourselves, doughnut lovers. It really does appear that Dunkin' Donuts is going to build its new location on the northwest corner of Sixth and Michigan streets. I began reporting back in 2008 that Dunkin' Donuts was going to add a second location in the city, and then kept waiting and waiting. But now people tell me that a sign is up at the site and grading of the property has begun. (I haven't driven by yet this morning, but will later.UPDATE: I've seen it with my own eyes now, and have added a photo of the rendering that is on the sign at the site.) Local Dunkin' Donuts owner Sonny Patel previously has said that the store would take six to seven months to build. Patel's existing store at 521 W. 23rd Street will remain open.
• If bacon, eggs, hashbrowns and banana cream pie is more your style for breakfast, you dodged a bullet in Lawrence recently. Last week the Perkins chain filed for bankruptcy protection and closed 27 stores in the process. Lawrence's store was not on the closure list. At least not yet. The only Kansas store the company closed was its location on State Avenue in Kansas City. But the company — which also owns Marie Callender's — said the "process to identify under-performing stores will continue through the chapter 11 case." I have no insight into how the Perkins location in Lawrence does. To show you how old I am, Perkins used to be a "hot spot" for the late-night studying crowd when I was at KU — or so I'm told. Only half of the phrase "late-night studying" applied to me.
Copyright 2018 The Lawrence Journal-World. All rights reserved. This material may not be published, broadcast, rewritten or redistributed. We strive to uphold our values for every story published.