Photo Gallery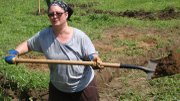 First Baptist Church members dig school foundation on mission trip to Haiti
A dozen members of First Baptist Church spent last week in Haiti, a trip that could prove life-changing both for them and for the people they helped.
A dozen members of First Baptist Church spent last week in Haiti, a trip that could prove life-changing both for them and for the people they helped.
The group traveled to the outskirts of Cap-Haitien, on the north coast of the poor island country, to dig the foundation for a school that will serve hundreds of children with no other hope of getting an education. All of the available schools are in the middle of the city, a half-hour away.
It's a mission that resonated with a congregation composed largely of educators.
"It just became an easy fit for us to get behind," said the church's senior pastor, the Rev. Matthew Sturtevant, who worked with an established Baptist missionary in Haiti to select a project based on the community's greatest need.
"This is really a long-term fix to help enact change," he said. "We see this as the beginning of a long-term covenant, a long-term relationship."
Far from the capital city of Port-au-Prince and the worst of the 2010 earthquake damage, poverty in Cap-Haitien was nonetheless everywhere. Yet the Haitians the group met — from taxi drivers to disabled children in a hospital to people who showed up at the school site to help — were upbeat and welcoming.
"I didn't expect to be affected in such a positive way," said Scott Lamb, a senior at Lawrence High School. "There's so much hope there and so much potential."
In just a week, people were recognizing them and offering friendly waves. Group members took turns digging and playing with children who flocked to the work site. They attended church services conducted in Creole and enjoyed home cooking from members of the Haitian Baptist Convention.
"We already made connections, and that was really cool," Lamb said.
His father, Brent Lamb, who was also on the trip, said the group wanted to address a specific need — previous missionaries had built an eye clinic — and education stood out.
"Even in a place like Haiti where there's no way for us to make systemic changes, we can make a difference by really focusing our energy," he said.
Nancy Bonner, a clinical social worker, said the trip was "amazing, life-changing, inspiring... The people were so joyful in spite of their conditions."
The First Baptist congregation raised more than $12,000 for the mission, tapping a network of donors through a letter-writing campaign that reached out to friends and relatives nationwide. Depending on funding, the school could take either months or years to finish.
Sturtevant said the trip is helping rejuvenate the church's outreach efforts.
"Why can we not be about the same mission every day here?" he said. "There are needs in Lawrence, in Kansas, in our own country. It crystallizes our purpose and re-energizes all of our other ministries."
The mission group will share their experiences at a worship service July 3 at 10:45 a.m. at First Baptist Church, 1330 Kasold Dr.
Copyright 2018 The Lawrence Journal-World. All rights reserved. This material may not be published, broadcast, rewritten or redistributed. We strive to uphold our values for every story published.