-->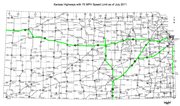 Travelers in Kansas will get to their destinations faster as the state increases the speed limit on most freeways from 70 mph to 75 mph.
The change, announced Tuesday by the Kansas Department of Transportation, will take place July 1 just as the roads start filling up with motorists for the July 4 holiday weekend.
Almost all of the Kansas Turnpike — from the Kansas-Oklahoma border to K-7 in Wyandotte County — will be 75 mph as will most of interstates 70 and 35; and U.S. highways 69 and 81.
In all, 807 miles of roadway will graduate from 70 mph to 75 mph. All are freeways, which have controlled access and interchanges. No expressways, which have cross traffic, were selected for the increased speed limit.
The routes were picked by a task force made up of KDOT representatives, the Kansas Highway Patrol and Kansas Turnpike Authority.
"We considered a number of factors, such as traffic volumes, crash history and roadway geometrics, to determine where to raise the limit," said Chris Herrick, director of KDOT's Division of Planning and Development. "We will continue to monitor these routes under the new speed limit and consider whether it makes sense to increase the maximum speed on other highways."
Not on the increased speed limit list was K-10. Steve Swartz, a spokesman for KDOT, said K-10 was too heavily traveled for 75 mph. "It's such a heavy commuter route," he said.
The changes were prompted by legislation approved in the recently completed legislative session and signed into law by Gov. Sam Brownback.
Rep. Marvin Kleeb, R-Overland Park, drove the bill through the Legislature, hitting few bumps along the way.
Kleeb argued the increased limit would help the economy by making Kansas more attractive to vacation travelers and truckers. Most western states have already adopted 75 mph.
No groups opposed the measure. Jim Hanni, a spokesman for AAA in Kansas, said the bill seemed like a "done deal."
Although he added, "There is nothing positive about it from a safety standpoint, and there is nothing positive about it from a fuel efficiency standpoint."
The website fueleconomy.gov, run by the U.S. Department of Energy, states each 5 mph over 60 mph is the equivalent of paying an additional 30 cents per gallon of gas.
And the Insurance Institute for Highway Safety cites studies that show states that increased speed limits saw an increase in traffic fatalities.
"For practical reasons, there are limits to the amount of crash energy that can be managed by vehicles, restraint systems, and roadway hardware such as barriers and crash cushions. The higher the speed, the higher the likelihood that these limits will be exceeded in crashes, limiting the protection available for vehicle occupants," according to the institute.
Swartz, with KDOT, said state officials are satisfied with the safety of raising the limit and had no qualms starting the increase right before a heavily traveled holiday.
"If we didn't think these roads could handle it during holiday traffic they wouldn't have been boosted up," he said.
Copyright 2018 The Lawrence Journal-World. All rights reserved. This material may not be published, broadcast, rewritten or redistributed. We strive to uphold our values for every story published.