Photo Gallery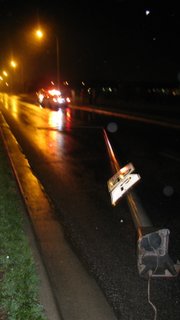 Storm causes problems for Lawrence drivers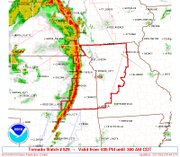 Kansas weather updates, via Twitter
Tuesday, 1:38 a.m.
The strongest thunderstorms have made their way out of Douglas County, although 189 Westar Energy customers are still without power. There is a 30 percent chance of storms overnight, according to the NWS. The overnight low is 68 degrees, with a southwest wind between 15 and 20 mph, with gusts as high as 30 mph.
Monday, 11:56 p.m.
The tornado watch for Douglas County originally set to expire at 3 a.m. Monday has been canceled. Storms are still moving through the Douglas County area with lots of lightning.
Low visibility has caused havoc for some drivers. According to Lawrence Police officers on the scene, a vehicle jumped a curb at 23rd Street and Learnard Avenue, hitting a tree and causing a large limb to block the westbound lane of 23rd St. City maintenance crews were clearing the limb around 11:15 p.m.
Two vehicles were involved in another accident on Clinton Parkway near Inverness Drive, where a vehicle hit a light pole and a second vehicle hit the first. The pole was blocking the eastbound lane of Clinton Pkwy. around 11:30 p.m.
Nearly 300 Westar Energy customers are still without power in Douglas County.
10:08 p.m.
Westar Energy's website is reporting 592 customers in Douglas County are without power. Large outages appear in eastern Lawrence and the area just north of 23rd and Iowa streets. There are scattered outages from 23rd to 6th Street, according to Westar's outage map.
9:57 p.m.
There are now 418 Westar Energy customers in Douglas County without power.
9:52 p.m.
Heavy rain has started to pound Lawrence, with 44 Westar Energy customers in Douglas County reportedly without power.
9:47 p.m.
The severe thunderstorm warning has expired. Douglas County remains under a tornado watch until 3 a.m. Monday.
Original post
The National Weather Service has issued a severe thunderstorm warning for Douglas County until 9:30 p.m. Douglas County is also under a tornado watch until 3 a.m. Tuesday. The NWS doppler radar indicated storms capable of producing damaging winds over 60 miles per hour.
These storms were located along a line extending from 10 miles southeast of Holton and Carbondale, moving northeast at 45 mph.
Surrounding counties also under the tornado watch include Franklin, Jefferson, Jackson, Johnson, Leavenworth, Shawnee and Osage.
Thunderstorms, hail up to two inches in diameter, wind gusts up to 80 mph and dangerous lightning are also possible in these areas.
Copyright 2018 The Lawrence Journal-World. All rights reserved. This material may not be published, broadcast, rewritten or redistributed. We strive to uphold our values for every story published.