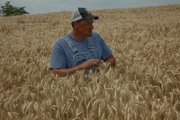 Corn loves this weather
Douglas County's two major crops are barely in the ground or just growing up, but already they're showing plenty of promise.
"The corn looks pretty good," said Bill Wood, director of K-State Research and Extension in Douglas County. "It likes some of this rain. It also likes sunshine. This last week, if you were standing in the corn you could just about hear it growing — it was stretching up."
Farmers planted their corn on schedule in early May, and only a few fields are lacking the soybeans they've been waiting for. Such crops are harvested in the fall.
Last year Douglas County farmers had 25,000 acres of corn and 41,000 acres of soybeans, compared with just 1,900 set aside for wheat — an especially low total blamed on a late fall harvest in 2009, which had postponed wheat planting.
Average yields per acre in the county, during the past four years: Corn, 118 bushels per acre; soybeans, 33.6 bushels per acre; wheat, 32.25 bushels per acre.
The wheat's climbing up to their belt buckles, the thick patches of golden brown promising solid yields amid a season of relatively high prices.
Now, if only farmers could get their combines in the fields.
"I have no idea what it'll do," said Charles Beeghley, itching to harvest his 80 acres along the east side of U.S. Highway 59 south of Lawrence. "Average would be all right."
Yes, average would be fine. But as Douglas County farmers wait for their rain-soaked fields to dry out this week, they're cautiously holding out hope that the area's No. 3 crop might turn in a strong performance at the elevator.
With prices hovering Monday at $7.35 a bushel, ag observers see a chance for farmers to do OK this year despite having paid rising prices for fertilizer, fuel and other inputs that drive up the costs of production.
"I think it's going to be good," said Bill Wood, director of K-State Research and Extension in Douglas County. "Just driving around the county, it appears to be in pretty good shape. We haven't had many disease problems. We've had pretty good weather. The fields look thick and lush.
"Of course, like any crop, that can fool you once you get a combine out there."
And that hasn't happened yet. With much of the county having absorbed 3 inches of rain over the weekend, area farmers haven't been able to get their combines in their fields; the most optimistic projections call for cutting late this week, if the weather holds, and only then will hopes be dashed or confirmed.
"There's no way of knowing till we actually cut it," said Verlyn Gilges, who works in the office at Baldwin Feed Co.
Even so, guarded optimism endures in the county.
While corn dominates production volume and soybeans cover the most acres, wheat still captures a special place in local agriculture. It's the first crop of the year to be harvested, and its performance can grow hopes for success later this fall when the relatively vast fields of corn and beans are poised for cutting, storage and sales.
Wheat had been selling for $3.90 a bushel a year ago, before jumping up to as high as $8.60 within the past couple months. Prices for corn and beans are up, too.
Wood, who consults with and advises area farmers on their crops, said that the area's wheat crop should surpass the county's recent average yield of 30 bushels an acre, likely enough to top 40.
That would be the best performance in the past five years.
"Inputs went up again, but I think farmers — if prices stay up through the end of the year like we think they will — still have a chance to make money," Wood said. "And when the farmers make money, they spend money. It flows through the county."
Copyright 2018 The Lawrence Journal-World. All rights reserved. This material may not be published, broadcast, rewritten or redistributed. We strive to uphold our values for every story published.