Photo Gallery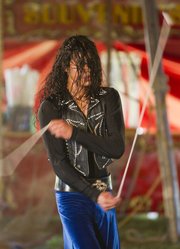 Family Fun Circus in Douglas County
The Family Fun Circus is performing in Lawrence tonight and Monday at the Douglas County Fairgrounds, 2110 Harper St.
This circus, based out of Texas, claims to feature the youngest human cannon ball in the country: 15-year-old Johnny Davenport.
Davenport's father, Chuy, said his son's routine used to scare him, but he has gotten used to it. The elder Davenport, who is in charge of maintenance, was born into the circus industry and has now passed the trade on to his son.
This group has deep roots in the circus. Brothers Fenix and Jordan Dresdner, 16 and 15, said they were sixth-generation circus performers. They said they like the traveling lifestyle, despite only being home two weeks out of the year.
The Family Fun Circus will also have horse, balancing and acrobatic routines. There are two shows each night, at 5:30 p.m. and 8 p.m. Tickets are $15 for adults and $5 for children.
Copyright 2017 The Lawrence Journal-World. All rights reserved. This material may not be published, broadcast, rewritten or redistributed. We strive to uphold our values for every story published.