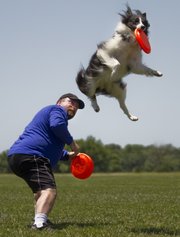 Ann Wilhelm and Harley Sue are nothing short of a team.
Wilhelm is the coach, and Harley Sue is the gifted athlete. Wilhelm cheers on as Harley Sue chases down pass after pass, offering encouragement and barking orders at her star player.
Harley Sue, a border collier/Australian shepherd, didn't drop a single disc during the bull's-eye event in the Land of Oz Kansas State Disc Dog Championship event. The winner of this competition earns a spot at the world championships — yes, there is one — in September in Chattanooga, Tenn., and Wilhelm said she will make the trip if they qualify.
Wilhelm, of Lawrence, was one of about 30 participants in Saturday's first-ever contest, which took place at the Youth Sports Complex, 4911 W. 27th St.
The disc competition consisted of six events. Participants from as far as Kentucky and Indiana competed, with a range of breeds chasing Frisbees.
The participants' talent ranged from adventurous dog owner to professional dog trainer.
Saturday was the second competition for Bryce Ostrom, of Lawrence, and his beagle/Blue Heeler, Oscar. Sitting in the same tent was Jackie Rodeffer-Scheetz, of Belton, Mo., who has competed with her Australian shepherd/border collie, Towser, for 2 years. She proudly pulls out this month's issue of DogSport Magazine — Towser is on the front cover, catching a blue Frisbee in midair.
Wilhelm said owners involved in the sport were very quick to help out, not only to help the sport grow, but also to help the dogs. Herding dogs, such as Harley Sue, Oscar and Towser, need lots of exercise and a task, and playing Frisbee fulfills both needs.
"We all know these dogs are high-energy, and people adopt them not knowing what they're getting into," Wilhelm said. "If we can teach people how to get that energy out in a good, positive way, they're more likely to keep their dogs."
Copyright 2018 The Lawrence Journal-World. All rights reserved. This material may not be published, broadcast, rewritten or redistributed. We strive to uphold our values for every story published.