Photo Gallery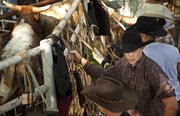 Sankey Rodeo School
A selection of images from two days spent at the Sankey Rodeo School in Rose Hill.
The Sankey Rodeo School
The three- and four-day schools are offered all year long, for people of all ages.
Participants can choose training in bull fighting and clowning or bull riding, as well as bareback and saddleback bronco riding.
Tuition ranges from $300 to $435, depending on the school. On-site lodging is sometimes available.
Two Kansas schools are scheduled for September and December, location to be announced.
For more information: sankeyrodeo.com.
Rose Hill — Visitors to Bud Sankey's ranch, tucked away in the small Kansas town of Rose Hill, are greeted by a bizarre mixture of warnings and welcomes.
"Is there life after death? Trespass here and find out," reads one sign.
Oh, but they're happy you stopped by, and promise you the best deal in five states on Western wear and tack.
Make it past the gift shop, and a herd of bulls awaits.
Just how dangerous the bulls are is a point Bud's son, Lyle Sankey, can't make clear enough.
"He'll break your legs, blow your knees out, break your ankles," Lyle tells a group of 16 men.
Welcome to Day One of rodeo school.
A careful man
Most of the men who signed up for the four-day gut-check that is the Sankey Rodeo School look the part: young, tough country guys in their early 20s, wearing faded Western shirts and dusty cowboy hats. Most grew up around bulls, worked their family farms and always loved going to the rodeo, they'll tell you in slow drawls in between spits of chewing tobacco.
Then there's Gavin Defreese, a 5-foot, 5-inch, 42-year-old auto parts sales manager from Birmingham, Ala., who sounds a little like Forrest Gump and looks a lot like an accountant.
"I'm a careful man," he says. "That's why I force myself to do things like this."
When he says "things like this," Defreese is talking about the times he bungee-jumped or skydived or white-water rafted.
For Defreese and several of the other bull riders at the camp, the weekend is simply an "adventure experience."
"They can check it off their bucket list," says Chaz Fish, 29, one of the Sankey Rodeo School instructors. Fish helps out at the schools — held throughout the country all year — when he isn't bullfighting at rodeos.
Fish and a crew of instructors spent the first day teaching Defreese and the other riders how to tie their ropes, mount a bull and fall safely off a 1,000-pound angry animal without getting stomped or gored.
Most of the instruction included caveats and stories about times when riders didn't follow procedure and things didn't go well.
"You are putting your life on the line," Fish says.
The danger of his chosen hobby is a point not lost on Defreese.
"I'm not going to come out of this a rodeo king," he says. "I just want to come out walking."
Bullfighting
The title "bullfighter" is at best misleading, and at worst deceiving.
Bullfighters don't fight the bulls; in fact, the goal is quite the opposite, says aspiring bullfighter Jacob Davidson, 18, from Mayetta.
The bullfighters wait in the ring, ready to catch the eye of the bull so the bull rider — recently bucked off — can hustle out of the arena to safety.
"Protect the rider at all cost," Davidson explains.
Get the bull turning away from the rider. And keep the bull turning. You don't want to get in a footrace with a bull, Davidson says. It's a lesson he'll learn the hard way.
Davidson worked a part-time job for the past two years to save up for the $435 tuition and traveling expenses for his shot at rodeo school.
"Go to school, go to work, go home," he said of his life the past couple of years. "No partying."
Students at the school can also learn the specialty of "clowning," a combination of bullfighting and comedy, but Davidson says he'll stick simply with bullfighting.
"I'm not funny," he says dryly.
While the bull riders worked on a mechanical bull, Davidson and 16-year-old Zac Miller worked indoors learning the ins and outs of the chaotic moments after a rider is bucked from a bull.
Both Davidson and Miller, who drove down from Estelline, S.D., with his parents, say they hope to eventually be good enough to work the rodeo circuit full-time. Davidson is stocky, maybe a little too stocky for the job that requires agility and stamina. Miller, on the other hand, is tall and lanky. The body armor worn in the ring hangs on Miller's thin frame.
The two both grew up on farms and loved the rodeo from an early age. Both wanted to be bull riders, but their parents said no.
But Tammy, Miller's mom, said she just couldn't keep her son from chasing his cowboy dreams, relenting when he chose the somewhat less glamorous, but probably safer, bullfighting.
"He said, 'Mom, I want to do this,'" says Tammy, who admits to some recent sleepless nights. Tammy spent the next few days watching bulls chase her son around. "It's hard on a mom."
After training all morning with a wheelbarrow-like contraption that's a very poor substitute for a real bull, the two would get their first chance inside the ring in a few hours.
"I couldn't sleep last night, " says a wild-eyed Davidson, who has spent the last few years dreaming of his opportunity. "I'm going to be nervous, but I'm not going to be scared."
Lyle
During the training, Lyle Sankey, holding court temporarily on his father's ranch, plays the role of teacher, parent and even pastor in the tense moment before the first bull is ridden, and he leads the cowboys in prayer. One moment he's berating a rider for not listening, the next waxing philosophical about life.
He's full of one-liners and war stories, learned and earned in a lifetime of riding bulls. Sankey, 56, participated in his first rodeo in 1969 and has been hosting rodeo schools for more than three decades. He and his crew of professional riders travel the country, from Idaho to Florida, holding rodeo schools. There's no age limit, and riders of any experience can sign up for specialties such as bronc riding or bullfighting.
Old photos scattered throughout the Sankey Ranch show a younger man in perfect riding form at any number of professional rodeo events. Sankey's website, sankeyrodeo.com, boasts that he's one of only four men to qualify for "National Finals Rodeo in Bare Back, Saddle Bronc, and Bull Riding." He's the real deal, and the riders know it. Many can rattle off Sankey's well-known rodeo accomplishments.
He's tough on the riders because he cares, he says quite a few times, followed by something like, "I'm not running a day care."
Sankey says his no-nonsense approach is a necessity, and certainly not a surprise at a rodeo school. They are riding bulls, after all, and Sankey's website clearly states: "Rodeo is NOT T-ball."
"The price for failure is much greater here," Sankey says.
The techniques are drilled into riders. Sankey spends a good deal of time explaining that the rules of the rodeo often run counter to logic or instinct. That's particularly true when it comes to Sankey's most common pearl of wisdom he gives riders about to take their first turn on a bull.
"Just think about relaxing," he says.
Showtime
The worst part of rodeo school, the anxious bull riders will tell you, is the waiting. After a full day of training, the riders woke on Day Two, ready to get that first bull ride under their belts. But they'd be stuck in a metal gate, waiting. Waiting as Sankey calls a rider up, and meticulously goes through the routine of roping and mounting a bull. The riders spend a good 20 minutes on top of the caged bull, getting a feel for each other, before the gate is opened. Twenty minutes is plenty of time for the bull to get irritated, and each time the bull violently thrashes a rider, the waiting riders watch and get quiet.
One by one, the bull riders take their turn, and the mood loosens. They get used to the thrashings of the bulls. Clanging metal becomes a common sound. And it sort of becomes normal to see the bulls stomp on fallen riders.
In the real rodeo, riders strive for eight seconds. At rodeo school, just getting out of the gate is considered a success.
After each ride, Sankey congratulates the rider, then point-by-point berates him for his mistakes. Mistakes, he reminds each of them, that could get them seriously hurt.
Defreese, around midmorning, gets his call. He puts his helmet on and goes through the routine with Sankey.
Defreese's bull doesn't make it far out of the gate; just sort of shoots out and curls back. Defreese is off after the first buck or two. No one's timing him, but three seconds, maybe.
As he stumbles back to the gate, a little dazed, he's greeted by the other riders and invited into the club of guys who have ridden a bull.
"You really just got to relax," Sankey advises. "You were really tight."
He's ready for the next round, Defreese says. But his first bull ride is a haze. He remembers little.
"I can't tell you what happened," he says. "I guess it was too quick for me."
'Shell-shocked'
In the rodeo arena, the beginning bullfighters are getting comfortable.
They've been chased a few times by a bull, and the nerves lessen, says Davidson.
Then it happens on the third ride of Day Two.
A particularly aggressive bull — just having bucked a rider — hops around and sets his sights on Davidson.
Davidson slips.
Sankey and the other instructors frantically yell for Davidson to get up. He's run over, as his partner, Miller, tries to get the bull away. Davidson gets up but slips again after the bull gets bored with Miller. As the bull bears down on Davidson — whose first mistake was trying to outrun the bull — his life-preserving instincts kick in, counter to bullfighting protocol. He curls up in the mud and covers his head.
"I was supposed to keep moving. I just laid and covered," he says after. "You don't want to lay and cover."
Because that's when the bull will stomp on you, and that's exactly what happens.
"Got stepped on my face a couple times," Davidson says.
Taking a break on the sidelines, a visibly deflated Davidson talks about his eye swelling shut. He points to a spot on his arm and describes getting "cut up pretty bad."
"Right now, I'm kind of shell-shocked, I guess," he says. "I'm hurting."
He'll shake it off and get back in the ring by the end of the day. He'll spend his night watching the film of the rough run, trying to learn what he did wrong, he says.
Things are going a little more smoothly for Miller. He's taken a few bumps and bruises, but nothing like Davidson. At least nothing to scare Mom too much.
Fish admits he's pleasantly surprised by how well Miller has done.
"I'm worried he's a little too timid," Fish said before the first run, but reconsiders after seeing the quiet-as-a-mouse Miller evade bulls all day.
Miller is all nervous smiles as he steps out of the ring for a break.
For a kid who wants to make a living being chased by bulls, he gets just about the highest validation one can get at the Sankey Rodeo School.
One of the hardened rodeo coaches pats him on the back and says, "You're what we're looking for."
Copyright 2018 The Lawrence Journal-World. All rights reserved. This material may not be published, broadcast, rewritten or redistributed. We strive to uphold our values for every story published.