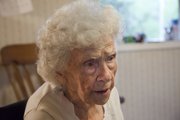 -->
Happy birthday to Audrie Hummelgaard. She turns 102 on Friday.
After more than a century of roaming Kansas and beyond — she's been to 46 states — she's content to stay in her red brick home in rural Leavenworth County north of Eudora.
Last year, she was still cutting her grass with a riding mower.
Now legally blind and mostly confined to a wheelchair, Hummelgaard spends her days washing clothes, cleaning the house and doing other chores.
"Might not be as good as some people want it," she said as she swept the floor from her chair. "But when you get to 102, who cares?"
She grew up with four sisters and six brothers on her parents' farm near Lone Star, where she learned to milk cows and drive a combine with a team of horses.
"It was pretty hard work," she said, recalling one year that the bank put a lien on the farm and took the whole corn crop. "It wasn't like nowadays. They would take your darn farm away from you if you can't make your payment."
The family sold two cases of eggs a week. Five pounds of sugar cost a quarter. A buggy trip to Tonganoxie took all day.
After quitting high school, Audrie earned $9 a week at the SH Kress & Co. dime store in Lawrence. She tested light bulbs by plugging them into a socket on the counter before selling them to customers. Her savings bought her a Ford Model A in 1927.
Later, she was an inspector for the Hercules Powder Co. at the Sunflower Army Ammunition Plant. In the great flood of 1951, while her house was under six feet of water, her husband, Clarence, rescued neighbors with a rowboat.
They moved in a trailer from place to place for his construction projects — including building missile silos in Idaho — before settling in her present home farther north of town. Audrie always had meals ready promptly at 5:30 p.m., with pies and cakes after: "He loved sweet stuff."
She admits things have been a little tougher since Clarence died in 2000, after 63 years of marriage.
Nothing big is planned for Audrie's birthday, just some cake and coffee with friends. Meals on Wheels might bring her favorite lunch, chicken enchilada casserole.
You work up an appetite keeping busy like she does, even at 102.
Copyright 2018 The Lawrence Journal-World. All rights reserved. This material may not be published, broadcast, rewritten or redistributed. We strive to uphold our values for every story published.