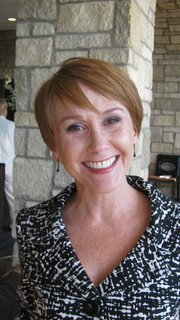 The frontrunner to take the helm at the Lawrence Humane Society met with shelter volunteers and community members Wednesday at The Oread, 1200 Oread Ave.
It was a chance for Dori Villalon, a seasoned veteran of animal shelters across the country, to offer her vision for an institution that was recently shaken by the suspension and subsequent resignation of its longtime director.
"She's our top candidate at this point," said Emily Peterson, president of the society's board of directors, adding that Villalon's personality makes her the "right fit" for Lawrence during a period of transition for the shelter.
Over drinks and hors d'oeuvres, volunteers pressed Villalon on her fundraising abilities and stance on putting down animals. Some expressed concern over space issues, a perceived lack of transparency and rates of euthanasia at the shelter.
Villalon said she always tries to "exhaust every possible resource before euthanizing an animal."
"As an open-door shelter, it's always a challenge because you don't know what's going to come in that door," she said.
In an interview, she added, "The ultimate goal is we want to save as many lives as possible and always be increasing that number."
The shelter, 1805 E. 19th St., is currently waiving all adoption fees for cats in an effort to relieve overcrowding. It takes in about 7,500 animals each year.
Villalon said the society can better use its website to get out the message that despite almost $300,000 in annual funding from the city and Douglas County, the shelter depends on contributions from the community.
"It can't be one person, and it certainly can't be just the board," she said.
Major corporate gifts and long-term pledges are needed alongside the annual donations that many community members already make, she said.
Former city manager Mike Wildgen has been interim director since Midge Grinstead resigned in March in the wake of a controversy over employees' overtime pay.
The board placed Grinstead on administrative leave for 28 days last fall for unspecified personnel reasons. In February, three months after she returned, the shelter announced it would give workers $10,000 in back pay.
On Wednesday and at the board's meeting the previous night, Villalon sought to reassure volunteers and board members about the shelter's direction. She met with staff at the shelter earlier Wednesday and said she was encouraged by what she saw.
"This is a new Humane Society," she said. "It's a new time at the Lawrence Humane Society, so let's start fresh from there."
Villalon was most recently vice president of animal protection at the American Humane Association. Before that, she directed shelters in San Francisco, Cleveland and Boulder, Colo. She earned a bachelor's degree in animal welfare management from Sonoma State University in California.
Peterson said the board's search committee picked one other finalist, but that candidate has not yet been invited to Lawrence. The board has not yet made an offer to Villalon.
As director, Grinstead was paid a salary of $50,000.
Copyright 2018 The Lawrence Journal-World. All rights reserved. This material may not be published, broadcast, rewritten or redistributed. We strive to uphold our values for every story published.