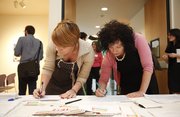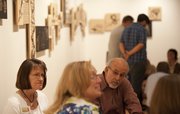 Proponents for public funding of the arts in Kansas gathered in Lawrence Thursday to discuss ways to react to Kansas Gov. Sam Brownback's unprecedented veto of funding for the Kansas Arts Commission.
Henry Schwaller IV, a former arts commission chairman from Hays, encouraged those present to host gatherings at their homes with friends to encourage them to support public funding for the arts.
He said the arts benefited communities both culturally and economically.
Richard Renner, a Lawrence artist, said that when the news first broke, it was hard not to take it personally, and he became angry and felt like a victim. More recently, however, he said he was looking for ways to empower himself to affect change.
"Victimhood is a nice place, but I don't want to buy property there," he said.
Several current and former members of the arts commission attended the meeting, along with Sen. Marci Francisco and Rep. Paul Davis, both Lawrence Democrats, and Rep. Barbara Bollier, a Republican from Mission Hills.
Brownback vetoed the Legislature's $689,000 funding of the Kansas Arts Commission last month, saying he wanted to save money and focus on core functions of government.
He also appointed a new Arts Commission chairwoman who is the leader of the private fundraising group formed by Brownback that he says will be able to fund the arts in Kansas.
Attendees of the meeting on Thursday noted that Kansas had attracted national attention for being the first state in the country to take such a move. Arts advocates have also said that the cut in funding also means that Kansas could be at risk of losing $1.2 million in federal funds from the National Endowment for the Arts.
More than 50 people attended the meeting, which was organized by the advocacy group Kansas Citizens for the Arts. Organizers said they planned to host similar events to brainstorm strategies and organize support across the state, with the goal of restoring public funding.
"It may not happen in the next legislative session," said Ann Evans, co-chairwoman of Kansas Citizens for the Arts. "We may need to have another election."
Sarah Carkhuff Fizell, one of the event's organizers, said Kansas Citizens for the Arts was exploring the potential for forming a political action committee that would financially support political candidates that supported the arts in Kansas.
Kansas Poet Laureate Caryn Mirriam-Goldberg attended the meeting Thursday, and read a poem to the crowd.
She was affected by the governor's decision, having previously received a $2,500 stipend, a $2,000 travel budget and staff support from the arts commission.
"I'm living in limbo, but I'm still writing poetry," she said.
Copyright 2018 The Lawrence Journal-World. All rights reserved. This material may not be published, broadcast, rewritten or redistributed. We strive to uphold our values for every story published.