A 38-year-old Lawrence man was convicted of attempted aggravated indecent solicitation of a child Wednesday morning after entering a plea in the case, Douglas County prosecutors said.
Lawrence police had arrested Alejandro Gutierrez Trevino April 7 after a family member accused him one night earlier of making an indecent solicitation for a 12-year-old girl to commit a sex act.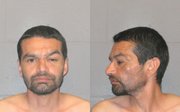 Police and prosecutors alleged the offense occurred in the 1300 block of Prospect Avenue in east Lawrence.
District Judge Kay Huff is scheduled to sentence Trevino Aug. 2. According to Kansas sentencing guidelines, he could face 11 months to 34 months in prison, but he also could likely qualify for probation if he has no significant criminal history.
Copyright 2017 The Lawrence Journal-World. All rights reserved. This material may not be published, broadcast, rewritten or redistributed. We strive to uphold our values for every story published.