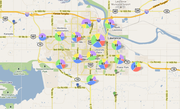 A set of interactive Google maps providing a breakdown of crime in Lawrence in 2011.
Lawrence police arrested a 23-year-old Lawrence man accused of stealing his ex-girlfriend's car keys as she was downtown early Wednesday morning, but he was later released from jail after no charges were filed Wednesday.
Sgt. Matt Sarna, a police spokesman, said a 20-year-old Lawrence woman alleged the suspect had forcibly grabbed her keys out of her hand while she was standing in the sidewalk about 12:45 a.m. Wednesday in the 900 block of Massachusetts Street.
Sarna said police later found the suspect and took him to the Douglas County Jail on a robbery charge pending a decision about formal charges. Police identified the suspect as an ex-boyfriend of the woman.
According to jail records, the man was later released because prosecutors in the district attorney's office did not file formal charges. Cheryl Wright, a district attorney's office spokeswoman, said charges weren't filed Wednesday and that the case will be under review.
The Journal-World generally does not identify suspects unless they are formally charged.
Copyright 2018 The Lawrence Journal-World. All rights reserved. This material may not be published, broadcast, rewritten or redistributed. We strive to uphold our values for every story published.