Photo Gallery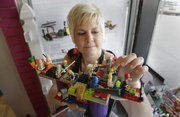 The Toy Store holds Lego building competition
Ben built a soccer stadium, its scoreboard showing the U.S. National Team topping Canada by a goal.
Hazel set up a Porta Potty, a dozen irate folks holding in line for a john that won't soon become unoccupied.
And then there's Reilley, an 8-year-old whose "Prison Base" features an unmanned spaceship used by sword-wielding bounty hunters, in ninja garb, who manage to apprehend an evasive skeleton.
The undead figure didn't stand a chance.
"I just thought it would be cool," said Reilley Moore, who will be entering third grade at St. John Catholic School. "I just built it randomly."
Reilley's imaginative whimsy may sound low key, but his work in plastic is among more than 80 entries that form the focal points of a high-profile contest in downtown Lawrence.
The Toy Store, 936 Mass., is running a competition to see who can create the best Lego creation — anything, of most any size — in two divisions: age 11 and under, and age 12 and up.
The two who receive the most public votes will receive new Lego sets from the store, but the real winners already appear to be the dozens of people each day who stop by the store window or step inside to view the varied displays of interlocking items.
A sinking Titanic. A moving Ferris wheel. A "Lego Hamster," billed as a "great pet, because you don't have to feed it!"
"There are no rules," said Jhami Guffey, co-manager of the store and contest organizer. "As long as they can bring it into the store, it's OK. We don't want to limit anything. We just want to blow people's minds."
While the projects range from large to small, and fantastic to realistic, they share a common foundation: Their creators' skill assembling some of the 3,900 different molded-plastic elements — bricks, doors, figures, trees, platforms — that have made Lego the world's fourth-largest toy company, with 485 billion different pieces produced since the late 1950s.
George Rennels, a 52-year-old unit secretary at Lawrence Memorial Hospital, entered one of his finest works: A near-to-scale model of St. Luke AME Church, 900 N.Y.
Just like the real church, his Lego model has stained-glass windows, two air conditioners out back, and seating for 125 inside — even if Darth Vader is in his congregation, the piano player isn't a piano player, and the church choir actually is made up of basketball players.
"I thought, 'Everybody needs a little bit of Jesus,' so I put everybody in there," said Rennels, who has a room in his Lawrence home dedicated to Legos, which he's been collecting and building with since 1965. "I was going to put Chewbacca in there, but he's too big."
The Toy Store is accepting entries, which anyone can drop off during business hours, through June 21. Voting begins June 22 and continues through July 3, with visitors to the store able to vote for their favorites once a day by written ballot.
"There are some creative folks out there," Rennels said.
Copyright 2018 The Lawrence Journal-World. All rights reserved. This material may not be published, broadcast, rewritten or redistributed. We strive to uphold our values for every story published.