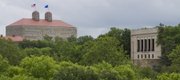 Subscribe to the email edition of Heard on the Hill and we'll deliver you the latest KU news and notes every weekday at noon.
Your daily dose of news, notes and links from around Kansas University.
• Tipster Patrick Wilbur wrote to remind me that today is the 20th anniversary of the fire that gutted Hoch Auditorium that eventually led to the construction of what is today Budig Hall.
Patrick remembers that because today is his birthday, he told me, and was playing basketball at Robinson Gymnasium at the time and came out to see the smoke.
No one was hurt in the blaze, which destroyed the former home of the KU basketball team.
Firing up the Journal-World way-back machine, we can get a few choice quotes, like then-Chancellor Gene Budig's take.
"Countless alumni and friends have memories of the historic old facility and the outstanding academic, arts and athletic events held there. We have witnessed the passing of an old and dependable friend," he told the paper.
And here's another interesting story from that day about the six firefighters that arrived on the scene first.
• A KU professor who does her research on social networks and is the author "Personal Connections in the Digital Age" was quoted in the New York Times this week.
Nancy Baym, a KU professor of communication studies, appeared in an article that explained that more adults than one might think participate in the kinds of behavior that we find inappropriate in our congressmen.
Baym told the paper that many adults can make fools of themselves in the digital world.
"I think we tend to blame teenagers for behaviors that we're quite guilty of ourselves," she said. "Grown-ups are certainly capable of doing really stupid stuff online."
Here's the complete story.
• The KU School of Medicine in Wichita has named Christopher McCracken as its associate dean for administration.
He comes to KUMC-Wichita from the Chicago Medical School at Rosalind Franklin University School of Medicine and Science, where he was principal business officer responsible for medical school finances and business management.
He has a master's degree in health services administration from KU.
McCracken started in his new role on June 13.
And while we're on the topic of the Wichita campus, the first group of four-year medical students is scheduled to be on campus this fall, so that effort is coming up. The School of Pharmacy is also expanding in Wichita, and plans to accept its first class of 20 students this fall.
• Happy birthday, Patrick! And good tidings to all the other Heard on the Hill tipsters out there. Let me know what's going on by sending me an email at ahyland@ljworld.com.
Copyright 2018 The Lawrence Journal-World. All rights reserved. This material may not be published, broadcast, rewritten or redistributed. We strive to uphold our values for every story published.