Photo Gallery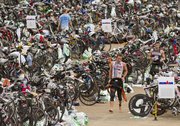 2011 Ironman 70.3 Kansas
In her first two victories at the K-Swiss Ironman 70.3 Kansas at Clinton State Park, professional triathlete Chrissie Wellington never trailed after the second stage, the 56-mile bike ride.
Sunday, as Wellington headed into the transition between the bike ride and the 13.1-mile run, she trailed fellow professional Leanda Cave by about three minutes.
Wellington racked her bike and tried to put on her running socks, but they didn't slip on easily. She also banged her head as she jumped up to start her run.
"When you're fumbling around, it seems to take absolutely forever," said Wellington, the women's world record holder at the full Ironman distance.
But Wellington, originally from England, torched the running stage, winning her third consecutive Ironman 70.3 Kansas women's title.
She finished in four hours, 11 minutes, eight seconds, about four minutes faster than Cave.
"She really did give me a race," Wellington said. "I think we got the best out of each other, which is what racing is all about."
Paul "Barney" Matthews from Australia won the men's pro race in 3:49:44, six minutes faster than runner-up David Kahn.
Matthews competed in a half-Ironman just last weekend, but he said he likes the quick turnaround.
"Last week was a bit of a warm-up," Matthews said. "I usually race better the second weekend. I felt better than last weekend."
Both champions said the course was difficult Sunday, especially because of the strong winds on the hilly bike course. The weather forecast predicted storms, but nothing really generated on the overcast morning.
Wellington's time was a little more than three minutes slower than last year. She revealed that she prepared for this year's race with a broken rib.
She didn't show any pain throughout the race, flashing a big smile and waving whenever fans cheered for her.
"I tried to switch the pain off and just focus on what I could do rather than the pain that my rib was giving me," Wellington said.
The race in Lawrence has become a regular stop for Wellington, and now coming to Lawrence and running on the faux yellow brick road at the finish line feels like coming home.
"I leave part of my heart in Lawrence every time I leave, so it's nice to come back," Wellington said.
Curt Chesney, 42, from Boulder, Colo., was the fastest non-professional male finisher, conquering the course in 4:09:51.
The fastest non-professional female finisher was Lauren Capone, a 23-year-old waitress from Santa Barbara, Calif. Capone finished in 4:38:26.
Copyright 2018 The Lawrence Journal-World. All rights reserved. This material may not be published, broadcast, rewritten or redistributed. We strive to uphold our values for every story published.