Summertime is prime time for outdoor events. Farmers' markets, downtown festivities, barbeque competitions and open-air markets have weekend event calendars working overtime. And with so many local outdoor music events — like the Lawrence City Band summer concert series and Kanrocksas Music Festival — gear up for great music and summer fun in style.
Read on about the latest outdoor event and music festival fashion trends below.
Footwear tips:
Depending on the environment of your outdoor concert or event, finding shoes that are both comfortable and cute can be a pretty big challenge. Tromping through the grass and dirt in campgrounds and concert venues leaves your feet covered in dust, often converting your most comfortable sandals into your least comfortable pair. For this reason, I suggest wearing closed-toed sneakers, very supportive flats or boots. Cowboy boots are comfortable and protective, plus they look cute with sundresses, skirts and cut-offs — and galoshes are great for rainy weather conditions and muddy arenas. For the trendiest galoshes, pick up a pair of hunter Wellies, popularized by supermodel Kate Moss at Glastonbury Music Festival a few years back.
Clothing picks: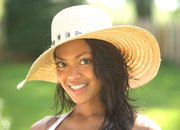 When the hot sun is beaming down, even shorts and a T-shirt can be too hot. Depending on the weather, wear a lightweight, breezy dress or skirt instead. Pair bottoms with tunic tops, roomy tanks or crop tops for the coolest, chicest festival look. And if you'll be sitting on the ground or might be caught by the breeze, layer bloomers or shorties underneath — just in case! For cooler, nighttime activities, I like to bring my most comfortable denim blue jeans and lightweight, long-sleeve shirts or loose, open-knit sweaters that provide just the right amount of warmth. Other clothing and accessories not to leave at home include head scarves, hats and extra socks.
accessories:
Fanny packs and belt bags are a longtime festival craze. Although I used to give my own mother grief about her fanny pack a few years back, I have to hand it to her — the pouch is comfortable, accessible and hands-free, perfect for a festival. Plus, fanny packs and hip pouches have come a long way, and …dare I say? Some are actually pretty cute. Leather versions with multiple pouches or canvas packs with tribal-inspired prints are two trendy varieties. And if you've ever tried to drink from a water bottle, work a camera and hold an event map simultaneously, you, too, know the value of two free hands.
Still not for you? Then use a purse with a cross-body strap for an alternate, cute, hands-free option.
Find purses, bags, and packs at stores like Sunflower Outdoor & Bike Shop and Etsy.com.
Copyright 2017 The Lawrence Journal-World. All rights reserved. This material may not be published, broadcast, rewritten or redistributed. We strive to uphold our values for every story published.