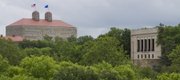 Subscribe to the email edition of Heard on the Hill and we'll deliver you the latest KU news and notes every weekday at noon.
Your daily dose of news, notes and links from around Kansas University.
• A KU professor got a mention in the Wall Street Journal talking about the new plate graphic that replaced the USDA's food pyramid (you can see the new graphic in the article).
Jeremy Shellhorn, an associate professor of visual communication, said the new graphic didn't provide a lot of information.
"On its own this graphic is pretty light fare," Shellhorn told the newspaper. "As an information graphic, it simply doesn't give us much information."
I found it interesting to note that even the sizes of the protein, grains, etc., weren't meant to reflect actual proportions people are supposed to eat. So it is a little strange to think about what we're supposed to take from the graphic.
• A KU alumna has been nominated to a federal government post in the Department of the Interior.
President Barack Obama last week announced his intention to name Rebecca Wooder, who holds degrees in biology and environmental studies from KU, as the next assistant secretary for fish, wildlife and parks.
Since 1995, Wooder has been the chief executive officer of the nonprofit American Rivers, where she has helped restore the health of rivers through various conservation measures.
If confirmed, Wooder would replace Tom Strickland, who served two years in the position.
• I stumbled on this site the other day, which has a number of old Jayhawker yearbooks available in digitized form.
It's a subscription-based service to get access to the big .pdf files (you have to pay $19.95 a year or $4.95 per month), but you can still browse the covers and get a feel for what the pages were like, and look at some photos (albeit relatively tiny ones).
It's interesting to peek through some of the pages of the old ones and see what the campus was like years ago.
• If you've got a tip for Heard on the Hill, don't hold back. Send it my way at ahyland@ljworld.com.
Copyright 2018 The Lawrence Journal-World. All rights reserved. This material may not be published, broadcast, rewritten or redistributed. We strive to uphold our values for every story published.