Photo Gallery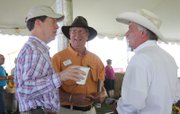 Outdoor symphony at the Flint Hills
Only 3 percent of what used to be a 170 million-acre tallgrass prairie remains today, much of it concentrated in the Flint Hills of eastern Kansas.
And that's what organizers of the sixth-annual Symphony in the Flint Hills want people to understand and appreciate.
"Our biggest goal is to attract an attention to the Flint Hills," said Brandon Cole, this year's site manager. "One thing we've kind of discovered is that sometimes people here can take for granted what we've got, and some people outside the Flint Hills just haven't had the exposure."
More than 7,000 people attended this year's Symphony in the Flint Hills, an all-day event held in a different part of the Flint Hills each year. Various activities take place during the day, and the Kansas City Symphony plays a concert in the evening.
The location changes to showcase different parts of the Flint Hills. This year's event was held in the Fix Pasture near Volland, on land shared among three families.
"This is my first time being here," said Lizzie Najim, a junior at Kansas University from Wichita. "I really like it so far. The weather's beautiful. It's a lot more than just a symphony."
Activities during the day included horse-drawn covered wagon rides, nature walks, presentations on Kansas history, an instrument "petting zoo" and events in the neighboring towns of Alta Vista, Paxico and Alma.
Dedicated volunteers
Cole, a native of Olpe, is in his first year as site manager. He recently moved back to Kansas from Arizona.
"I considered Hillsboro, but I didn't know if I could go from Phoenix to Strong City just cold turkey," he said. "So I'm trying to go with Manhattan and maybe wean myself."
Cole said he has a great support team for Symphony in the Flint Hills.
"We've got all these volunteers, people that just come out here with a sheer desire to just help," he said. "It's because they share the same passion for the Flint Hills as we do."
Two such volunteers are Joanne Bergman and Mary Ellen Kriegh, sisters from Lawrence in their fourth year of volunteering at Symphony in the Flint Hills.
"It's our 'sis' getaway," Kriegh said with a laugh. "No husbands, no kids."
Bergman runs an upholstery business in Lawrence.
"The symphony is fantastic," she said. "I just love the Flint Hills. It's a beautiful place."
Kriegh said the awe of the Flint Hills is what's brought her back for four years.
"Everyone's happy. It's a very happy, fun event," she said. "We just feel real lucky we get to do this."
Spotlight on Flint Hills
Larry Thierer, who owns one of the pieces of property on which the concert was held, spent most of Friday assisting with preparations for the event. He said he was amazed people come out for such an event.
"You want my honest opinion? I think it's a lot of crazy idiots!" he said. "'Course, I'm outside almost all day, so no big deal being outside in the sunshine. I definitely can't see driving and walking out half a mile into a pasture for it — that's ridiculous as far as I'm concerned. But I guess it takes all kinds to make the world go 'round."
Volunteers Gary and Joann Pottorff from Wichita have come to all six Symphony in the Flint Hills events. Gary is a retired veterinarian, and Joanne is a Kansas state representative for the 83rd district.
"I just enjoy the Flint Hills," Gary said as he drove the truck that shuttled volunteers between the check-in tent and concert site. "I just like being out in the country."
Betty Dunhaupt of Topeka volunteered at the first Symphony in the Flint Hills event in 2006. This is her first time back since then.
"I love the Flint Hills," she said. "This is such an ideal place because people who'd never come to the Flint Hills come see it. We've got that Kansas pride."
Cole said Symphony in the Flint Hills is trying to be more than just an annual event.
"Our goal is to really bring the spotlight to the Flint Hills," Cole said, "and try to organize nonintrusive events where people can come in and enjoy them and develop an appreciation for them like we have, and then leave with a limited footprint."
Copyright 2018 The Lawrence Journal-World. All rights reserved. This material may not be published, broadcast, rewritten or redistributed. We strive to uphold our values for every story published.