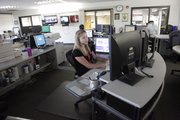 On the street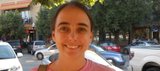 On accident.
If you've called 911 anytime in the past 13 years, there's a good chance you've spoken with Marjorie Hedden.
She's often one of the people on the receiving end.
She's one of 19 full-time dispatchers working in the Douglas County Emergency Communications Center in downtown Lawrence. The job, which she said is not for the faint of heart, requires a great deal of focus and concentration, not to mention the ability to multitask.
On any given day, dispatchers may have to answer calls using their hands, headsets or feet. Depending on the volume of calls, the chatter among the at least three dispatchers can become distracting.
"It can get loud in here," Hedden said. "You have to learn to tune it out without tuning everything out."
Focus is merely one of the many skills in which Douglas County dispatchers must be proficient. They are also required to commit to memory a wealth of knowledge, including 10-codes, computer shorthand and emergency vehicle numbers and functions.
"That's why the training period is so long," Hedden said.
To become an emergency dispatcher in Douglas County takes time. Each dispatcher is cross-trained to handle every position on the staff. Scott Ruf, the center's new director, said the training process can take as long as eight months.
"There's a big, big learning curve," he said. "It's one of those jobs where very rarely do you have someone come in that has experience."
But the training has to be demanding and comprehensive because the job needs it to be. Dispatchers are responsible for taking and responding to calls for a plethora of emergencies, from fires and vehicle accidents to violent crimes and barking dogs. The center receives an average of 900 to 1,100 service calls each day, or roughly 300 to 350 calls per eight-hour shift. Ruf said patience among dispatchers is a necessary and usually acquired skill.
"What people sometimes don't understand is that we might be asking these questions, but people are already on the way," Ruf said of emergency calls. "There's that customer service and that empathy, but at the same time we're trying to do a job. There's a method to the madness."
The madness includes manning the communications center 24 hours each day, every day of the week. In Douglas County, that happens in three shifts, with one covering the morning and early afternoon, one for the evening and one for the overnight hours. Even with 19 dispatchers and three shift supervisors, Ruf said, the staff may not be big enough at times.
"We're probably understaffed," Ruf said. "To what degree or by how many I don't know, but a lot of that comes to how you set your schedules up."
But county dispatchers aren't alone in their work. On days and nights when things get hectic, public safety employees with Kansas University lend a helping hand. The symbiotic relationship lets county, city and university law enforcement work more effectively.
Technology helps the center operate smoothly, too. A recent upgrade to the call system has provided dispatchers with a new touch-screen setup that makes handling calls easier and faster. Each dispatcher has a station with as many as five monitors, all set to help complete or keep track of important information. There's even a computer that lets dispatchers know which hospitals have beds available in the area.
Ruf said he considers the communications center a support service. The center provides dispatch support to 23 area agencies in Douglas County, including agencies in Lawrence, Eudora, Lecompton and Baldwin City. With the help of personnel and sufficient funding, Ruf said his goal for the center was clear.
"I want it to be one of the best, top-notch professional agencies of its type in the state," he said. "If not the region and the country."
Copyright 2018 The Lawrence Journal-World. All rights reserved. This material may not be published, broadcast, rewritten or redistributed. We strive to uphold our values for every story published.