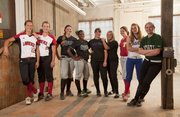 Softball All-Area first team: Kristen Bell, Lawrence High; Lauren Massey, Lawrence High; Samantha O'Brien, Free State; A'Liyah Rogers, Free State; Kaley Patterson, McLouth; Jesse Troupe, McLouth; Mikela Scott, Ottawa; Kaitlyn Wolken, Tonganoxie; Elizabeth Strawn, Wellsville; Lauren Mabe, De Soto.
Softball player of the year: McLouth senior Kaley Patterson
Patterson earned the Journal-World All-Area player of the year for the second straight season. Patterson, a senior, will play softball at UMKC next season, joining her older sister Kendall. Kaley had a monster spring, hitting a ridiculous .766 with four home runs. She also was dominant on the mound, with a 0.69 earned-run average. She struck out 156 hitters.
Softball coach of the year: Reenie Stogsdill, Lawrence High
Stogsdill led the Lions to their first Class 6A state appearance since 2000. Lawrence compiled a 14-9 record this spring, a remarkable turnaround, considering LHS went 1-20 two years ago.
Softball honorable mention (alphabetical order): Madeline Brungardt, Baldwin; Morgan Burton, Baldwin; Lauren Byrn, Lawrence High; Sarah Cunningham, Oskaloosa; Joselyn Dean, Ottawa; Alex Hill, Free State; Hannah Jokisch, De Soto; Kaitlin Jorgensen, Baldwin; Kendra Leach, McLouth; Paige McFarland, Ottawa; Jordan Miller, Oskaloosa; Courtney Parker, Free State; Konner Patterson, McLouth; Jessica Peacock, Wellsville; Makenzi Shackley, De Soto; Sophia Templin, De Soto; Lakin Thompson, Oskaloosa; Kasey Waite, Lawrence High.
Copyright 2018 The Lawrence Journal-World. All rights reserved. This material may not be published, broadcast, rewritten or redistributed. We strive to uphold our values for every story published.