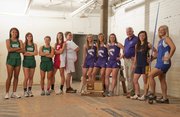 Girls track & field All-Area first team: Alexa Harmon-Thomas, Free State; Lynn Robinson, Free State; Hayley Francis, Free State; Jenny Whitledge, Tonganoxie; Domino Grizzle, Tonganoxie; Morgan Lober, Baldwin; Lyndsey Lober, Baldwin; Kaitlyn Barnes, Baldwin; Shereen Fattaahi, Veritas Christian; Jordan Miller, Oskaloosa.
Girls track & field athlete of the year: Free State freshman Alexa Harmon-Thomas
Harmon-Thomas, a freshman, won two individual titles at the Class 6A state championship in Wichita. She won the 300-meter hurdles (44.86) and the high jump (5-6) at Cessna Stadium. She is already the FSHS record-holder in the 100 hurdles, 300 hurdles, high jump and long jump.
Girls track & field coach of the year: Ted Zuzzio, Baldwin
Zuzzio and the Bulldogs won their second consecutive Class 4A state championship (tied with Colby) on May 28 in Wichita. Under the guidance of Zuzzio, who has coached Baldwin girls track for the past 35 years, the Bulldogs won every meet they entered this spring.
Girls track & field honorable mention (alphabetical order): Emily Brigham, Mill Valley; Ramie Burkhart, Baldwin; Jameson Colin, Mill Valley; TaMiya Green, Lawrence High; Allison Howard, Baldwin; Teri Huslig, Veritas Christian; Amber Moore, Santa Fe Trail; Kati Strickland, Mill Valley; Danelle Topil, Eudora.
Copyright 2018 The Lawrence Journal-World. All rights reserved. This material may not be published, broadcast, rewritten or redistributed. We strive to uphold our values for every story published.