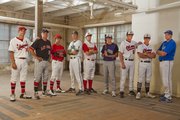 Baseball All-Area first team:
Alex Laughlin, Lawrence High; Matt Sutliffe, Lawrence High; Ross Johnson, Lawrence High; Cody Kukuk, Free State; Colin Toalson, Free State; Ethan Lorance, Tonganoxie; Kyle Pattrick, Baldwin; Connor Goedert, Ottawa; Turner Roth, Ottawa; Dylan Turpin, Perry-Lecompton.
Baseball player of the year: Free State senior Cody Kukuk
Kukuk, a senior who was drafted on Tuesday in the seventh round by the Boston Red Sox, went 7-1 with a 2.89 earned-run average this spring for the Firebirds (16-6, 7-4 Sunflower League). He struck out 103 in only 531⁄3 innings, while surrendering 43 walks. At the plate, Kukuk, who also plays outfield, hit .478 with a home run, 22 RBIs and three stolen bases. His on-base percentage was .618, and his slugging percentage was .716. A few months ago, Kukuk signed a national letter of intent to play baseball at Kansas University. Now that he's been drafted, he has a decision to make.
Baseball coach of the year: Brad Stoll, Lawrence High
Stoll guided the Lions (14-11) to a Sunflower League title this spring. LHS also earned a berth in the 6A state tournament at Hoglund Ballpark, where the Lions earned fourth place.
Baseball honorable mention (alphabetical order): Cody Amerine, Perry-Lecompton; Jeremy Carlisle, Tonganoxie; Tyler Cawley, Baldwin; Taylor Graf, Ottawa; Tim Lewis, Free State; Dylan Puhr, Tonganoxie; Zach Turpin, Perry-Lecompton; Justin Vander Tuig, Baldwin.
Copyright 2018 The Lawrence Journal-World. All rights reserved. This material may not be published, broadcast, rewritten or redistributed. We strive to uphold our values for every story published.