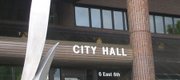 Subscribe to the email edition of Town Talk and we'll deliver you the latest city news and notes every weekday at noon.
News notes from around town:
• Here's a sign of the economic times for you — people want to sell their stuff and get cash for it. So, a new North Lawrence business has sprung up to help them do that. The Big House Consignment Lot opened a few weeks ago at 1500 N. Third St., which basically is just south of the Tee Pee Junction. The lot is full of small boats, campers, ATVs and other boy toys that evidently aren't as much of a necessity these days.
People bring in their items for owners of the consignment lot to consider. If the owners find the item to be of enough quality to sell, a deal is struck. The owner of the item sets the sale price, but the owners of the consignment lot will take 10 percent of the sale. Plus, there is a $2 per day fee that is paid to the owners of the consignment lot as well.
"In this economy, it really seems to be serving a need for people," said David Wright, one of the owners of the business.
Wright said the main advantage the business offers to people looking to sell an item is the large amount of traffic that travels by the site each day.
"We've had people about wreck their cars whipping their heads around to take a look," Wright said.
The business currently is located on the same lot as Quality Tow, but Wright said the towing business is looking to secure a new location. If that happens, the consignment lot plans to take over the office building on the property and convert it into an indoor flea market.
In addition to Wright, area businessmen Bill Gideon and Joe Richeal own the business. Hours of operation are from 8 a.m to 6 p.m., Monday through Saturday.
• Here's another sign of the economic times for Lawrence. A private research firm — Policom Corp. — produces an annual study that measures the "economic strength" of all the metropolitan areas in the country. Its 2011 rankings came out, and Lawrence did not fare well. Lawrence ranked 293rd out of 366 metro areas. In other words, we ranked in the bottom quarter of all metro areas. The one piece of good news is that we are up from where we were in 2010. Last year we ranked 306th. But we have declined from where we once were. In 2004, we ranked 129th.
I haven't followed the Policom rankings previously, but they do look to be detailed. The company provided a four-page explanation about how they do the rankings. The process includes looking at about 10 different measurements of earnings and income for an area, plus they look specifically at construction and retail job totals as a way of gauging how much money is flowing into a community. The study also measures the amount of welfare and Medicaid payments that are being received in a community as a sign of economic distress.
As for other communities of interest and how they ranked compared to the other 366 metro areas, here's a look:
Austin, Texas: 4
Kansas City: 16
Boulder, Colo.: 87
Oklahoma City: 99
Lincoln, Neb.: 108
Iowa City: 122
Ames, Iowa: 125
Columbia, Mo.: 136
College Station, Texas: 157
Manhattan: 163
Waco, Texas: 202
Wichita: 204
Topeka: 247
Lubbock, Texas: 272
Of the cities in the Big 12, all are listed except Stillwater, which is too small for the ranking, and Norman is included in the Oklahoma City metro area. Lawrence ranked below all of them.
• Local leaders are pointing to some economic development successes, and the new bioscience and technology incubator on KU's West Campus is one of them. Now, leaders at the incubator facility are alerting city and county officials that they may be asking for significant money to expand. The new facility, which opened last summer, wants to begin planning for a second phase that would basically double the square footage of the facility. But that expansion likely would require a total of $2 million in funding from the city and county, although the funding probably could come in the form of $100,000 annual payments from both the city and the county for the next 10 years. The expansion is expected to cost $8 million to $10 million. Likely, KU and the state also would be tapped for funding, which was the formula used to build the first phase of the facility. Strong activity at the incubator is fueling the desire to expand.
The center has seven tenants and has leased more than 50 percent of its existing space. Most of the tenants have been technology start-up companies, but the center recently signed a lease for a life sciences company — Nanopharm — that is a spinout of KU research. Some companies in the center also aren't startups. As we've previously reported, Garmin has opened an office in the center, and now employs 13 tech positions at the site. An Irish-based Web development company, Propylon, also is based at the center. It has a major contract with the state of Kansas to digitize government functions, and it is planning to add 10 to 15 employees to the six that already are at the site. In total, the center is expected to have about 50 employees in the near future. That puts the center about where it would be after its third year of operation, not it first. Those numbers are creating excitement with several economic development types. Whether they'll produce enough excitement to garner another $2 million in local funding, will be interesting to watch. Expect the topic to get discussion during this summer's budget sessions at City Hall and the Courthouse.
• Also expect this summer, roadwork. City commissioners at their Tuesday meeting will approve a $1.2 million bid to begin work on repaving Sixth Street from Massachusetts Street to Iowa. The project also will include right-turn/bus turn-out lanes at Sixth and Maine and Sixth and Michigan streets. The work is expected to begin in late June and last into late August. At least one lane of traffic will be maintained in both directions, but you might start planning now how to stay off Sixth Street.
• City commissioners at their Tuesday evening meeting also will consider applying for state funding for two other major road projects. City commissioners will be asked to apply for state grants that would partially fund construction of a new left-turn lane at Sixth and Iowa Streets. The turn lane would be for motorists traveling west on Sixth Street and wanting to turn south onto Iowa Street. The intersection would have two through lanes for traffic heading west.
Currently, that intersection has significant backups due to the lack of a dedicated turn lane. The city estimates the average delay at the intersection currently is 89 seconds. With a left-turn-only lane, that likely could be reduced to 27 seconds. The project would cost about $700,000, and the city is seeking state funding for half of it.
The second project would be more controversial. It would involve adding an additional left-turn lane on 23rd Street/Clinton Parkway as it intersects with Iowa Street. It also would reconfigure the right-turn lanes at the intersection. That would be a $1.5 million project, and the city would seek $900,000 in state funding.
What's controversial, you ask? The state already has looked at this project and said if it moves forward it should include closing one of the two driveways that serves the shopping center that includes Hastings and other retailers at the northeast corner of the intersection. The state also recommends closing the opening in the median that allows motorist to head east on 23rd Street out of that parking lot. The noises you are hearing, are the screams of business owners at that shopping center.
The state is unlikely to fund both projects. City staff members have said they believe the Sixth and Iowa project may have a better chance of winning state funding, but commissioners can apply for both.

• Town Talk will take a break for a week while I partake in some training. So, I'll give my fingers a rest, but I hope you'll keep your ears open and send me some tips. I'll need some upon my return.
Copyright 2018 The Lawrence Journal-World. All rights reserved. This material may not be published, broadcast, rewritten or redistributed. We strive to uphold our values for every story published.