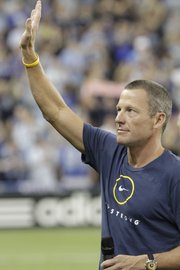 Kansas City, Kan. — Sporting Kansas City hasn't scored a goal in its new stadium, but the Major League Soccer club already has scored in other ways that make it an emerging player on the area sports scene.
For the athletes, Livestrong Sporting Park is as much a swanky resort spa as a soccer stadium. When they arrive at work, a nutrition drink concocted to their specifications awaits them. The chairs at their lockers put the nicest Monday morning quarterback recliner to shame. The hope is that some of the world's top players, who generally look first to New York and Los Angeles when choosing to play in the United States, will be drawn to Kansas City because it offers the sport's nicest office.
For the fans, wealthy power brokers and Average Joes, everybody has a place tailored to them. The stadium is built in such a way as to trap noise. The spectators don't create an air of danger the way European soccer crowds can, but they do bring loud chants and whistles, drums and horns.
For those who have had their lives changed by cancer, the stadium's name serves as a reminder that Lance Armstrong, the greatest cyclist of all-time, is fighting their battle with them. Armstrong was in attendance, talking to the crowd before the game and sitting in the stadium's only yellow seat — symbolic of the wristband he made famous — in the owner's box.
The first match played at the new digs ended Thursday night against the Chicago Fire in the most dreaded soccer score, 0-0. Bummer, but even the two-hour treadmill ride did offer a compelling player to watch.
Omar Bravo, a native of Los Mochis, Mexico, and a big global soccer name, is one of those forever-in-the-middle-of-the-action athletes. On this night, he did as much harm as good, getting called for offsides to nullify the night's only goal. At other times, when Bravo broke free and didn't get fed the ball, he let teammates know about their tunnel vision. Good for him. The refs didn't see Bravo getting roughed up on a late play. Not so good for him.
"There are good players, good defenders, guys who are good with the ball," said Sporting KC assistant coach and retired star player Kerry Zavagnin. "At the end of the day, the ones you pay the most for are the goal scorers. They don't come to you very often."
Sporting KC played its first 10 games on the road and stands in last place with a 1-6-4 record. Sidelined by injury, Bravo missed several matches and with him back, the club will improve.
"One of his strengths is he's ruthless in front of the goal and that's something that all good goal-scorers have," Zavagnin said.
His ruthlessness doesn't extend beyond the game. When Livestrong asked Bravo to become a global envoy encouraging people, especially those from his home country, to become pro-active about cancer, he embraced the opportunity as if it were an open net.
"We've found that in some Spanish-speaking cultures, men are very reluctant to seek even diagnostic services," said Katherine McLane, Livestrong's senior director for communications. "They'd rather not know if they have cancer because they believe it's a death sentence. Omar can make a huge, huge difference."
Copyright 2017 The Lawrence Journal-World. All rights reserved. This material may not be published, broadcast, rewritten or redistributed. We strive to uphold our values for every story published.