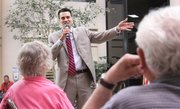 Other than Medicare and health care, Yoder addressed several topics during Friday morning's appearance at Lawrence Memorial Hospital:
• Proposal to extend the federal debt ceiling:
"If President Obama wants us to do that, then he needs to tell us how we're going to pay it back. We can't tax our way out of this. There isn't enough money in the economy to raise taxes that much. To get where we need to be, we should be serious about reforming government, cutting out fraud and waste and making spending reductions."
• Also said he favored the government freezing new regulations until the economy turns around:
"It's a bad time because we've got to get businesses creating jobs again, and all those Environmental Protection Agency regulations and things make it that much harder."
• Said Republicans should be willing to give ground in negotiations on types of spending cuts:
"As long as we can keep ourselves safe, I think we need to start looking at reductions in the Department of Defense and find waste. There's waste there. Republicans in particular need to be willing to put some of the other things they fight for on the line in terms of spending cuts. That's how you get spending cuts."
Freshman U.S. Rep. Kevin Yoder, R-Kan., on Friday disputed a contention that a budget proposal by U.S. Rep. Paul Ryan, R-Wis., would end Medicare, a popular narrative from congressional Democrats who oppose it.
"It preserves Medicare for those 55 and older, exactly the way it is today, and it balances the budget. Isn't that a great thing?" Yoder said at Lawrence Memorial Hospital.
Ryan's plan would also provide a fixed payment for anyone age 54 or younger to purchase private insurance once they turn 65 and become eligible for Medicare. Health care costs and the federal budget were two major topics as Yoder addressed about 60 people at a Lawrence Chamber of Commerce event.
The Democratic Congressional Campaign Committee has criticized Yoder and other Republicans for supporting Ryan's proposal. Democrats have also claimed the Medicare issue played a role in their recent victory in a New York special election for a House seat.
Yoder, a former Kansas House appropriations chairman and attorney from Overland Park, took office in Congress in January representing the state's 3rd District, which includes eastern Lawrence plus all of Johnson and Wyandotte counties.
He said Friday that Ryan's plan "heads us in the right direction" and called the status quo unacceptable. Yoder also mentioned health savings accounts.
"The folks on the left are being a little disingenuous when they say the Republican proposal to fix and preserve Medicare ends it," Yoder said, "when they know that by doing nothing, they're going to end Medicare as we know it."
Gene Meyer, LMH's president and CEO, said he worried Congress was not addressing problems with the delivery system of health care, including wellness incentives and the development of primary care physicians. He faulted both political sides and said every new position the hospital has created in response to the 2010 Democratic health care reform overhaul has to do with meeting regulatory demands instead of patient care.
"We have to change the delivery system in order to move forward," Meyer said. "And I don't think we've seen anything yet that provides that relief."
Copyright 2018 The Lawrence Journal-World. All rights reserved. This material may not be published, broadcast, rewritten or redistributed. We strive to uphold our values for every story published.