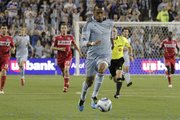 Kansas City, Kan. — Sporting Kansas City waited a long time for its own soccer-specific stadium. The club will have to wait a little longer for the first goal in its new home.
Sporting KC, sitting at the bottom of the Eastern Conference, played to a 0-0 draw against the Chicago Fire on Thursday night's much-anticipated opener in the first game played at Livestrong Sporting Park.
Sporting (1-6-4) earned a point, but gained no ground on Chicago, the team just ahead of Sporting in the standings. It was also Sporting's second consecutive 0-0 draw.
The environment certainly lived up to the hype. Captain Davy Arnaud said he had never seen a soccer environment like it in Kansas City.
"Everything that we've been waiting for was bigger and better than I even thought it would be and could be," Arnaud said.
Sporting's best chance for a goal came when forward Omar Bravo was tackled hard from behind in the box in the final minutes. The referee didn't give Bravo the penalty.
Coach Peter Vermes said he thought Bravo "100 percent" earned a penalty kick.
"For the referee to miss the moment in an environment like this tonight, there's not a place in the world where it would've been missed like he did tonight," Vermes said.
Sporting fought to earn a result after being reduced to 10 men in the 67th minute. Goalkeeper Jimmy Nielsen was sent off for making a save outside of the goalie box.
Sporting mostly controlled play in the first half, but was unable to convert on a couple of nice scoring opportunities.
Fifteen minutes in, forward Kei Kamara slid a cross into the box from the right wing. The ball bounced through traffic to Graham Zusi, who coolly finished into the back of the net.
The home crowd ignited into a frenzy, but the near linesmen held his flag up for offsides, negating the goal.
In the 45th minute, Bravo found himself open in the six-yard box, but he could only lightly graze the ball with his head. It rolled harmlessly to Fire goalkeeper Sean Johnson.
Before the opening kickoff, the organization put on quite a show.
Team CEO Robb Heineman thanked the crowd and then turned and faced the Members' Club, the most dedicated Sporting fans.
"Welcome home," Heineman said.
Lance Armstrong, representing Livestrong, also greeted the crowd with words of welcome.
Cincinnati Bengals wide receiver Chad Ochocinco, who trained with Sporting in March during the NFL lockout, mingled with Sporting players while they warmed up.
Sporting KC is back on the road this weekend for a match at FC Dallas on Sunday. Next Friday, the club returns to Livestrong Sporting Park for a match against San Jose.
Copyright 2018 The Lawrence Journal-World. All rights reserved. This material may not be published, broadcast, rewritten or redistributed. We strive to uphold our values for every story published.