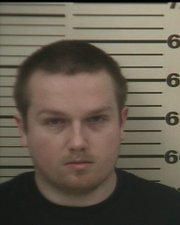 A 24-year-old Jefferson County man Wednesday morning admitted to shooting of his 22-year-old half-brother during an argument in February at their home north of Lawrence.
Bryan E. Poeverlein pleaded guilty to reckless aggravated battery and aggravated assault Wednesday morning, said Jefferson County Attorney Robert Fox. Poeverlein was originally charged with attempted second-degree murder in the case.
Fox said Poeverlein and his half-brother apparently got into an argument over washing dishes.
"The argument escalated to the point where Mr. Poeverlein retrieved a pistol and fired two shots," Fox said. "One went into the floor, and one hit the victim."
The shooting occurred around 2:30 a.m. Feb. 17 at their residence in the 1700 block of Wellman Road, about 8 miles north of Lawrence. The victim was taken to a Topeka hospital that day, and Jefferson County Sheriff's officers arrested Poeverlein.
Fox said Wednesday that the victim was still recovering from his injuries. Another person was in the home at the time of the shooting, Fox said.
District Judge Gary Nafziger is scheduled to sentence Poeverlein Aug. 18 in Oskaloosa.
According to state sentencing guidelines, Poeverlein could face from 31 months to 136 months in prison on the aggravated battery conviction. If his criminal history includes only misdemeanors, Poeverlein's defense attorney Sarah Swain could ask Nafziger to give him probation. He also faces 11 months to 34 months on the aggravated assault charge but could qualify for probation on that count.
Fox said the two parties have no agreement about sentencing recommendations.
Copyright 2018 The Lawrence Journal-World. All rights reserved. This material may not be published, broadcast, rewritten or redistributed. We strive to uphold our values for every story published.