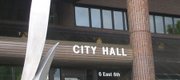 Subscribe to the email edition of Town Talk and we'll deliver you the latest city news and notes every weekday at noon.
News and notes from around town:
• Look for the city's Parks and Recreation Department to have a new home next summer. City officials have confirmed that they're planning to move the administrative offices of Parks and Recreation to the small South Park Center in summer 2012. Parks and Recreation currently has its offices in rented space at 10th and New Hampshire streets, above the Pepper Jack Grill restaurant. That lease expires soon, and city officials do not want to renew it. The South Park Center — which is the building in the western portion of South Park — hosts classes and such, but it does not have gym space or other typical recreation center type of uses. City commissioners at their meeting on Tuesday will go out for bid on a $25,000 project to extend new fiber optic cable to the building so that it can support the department's computer needs. The project also will extend new cable to the nearby Community Building at 11th and Vermont.
• I believe the longer term plan for parks and recreation is still to have office space in a new West Lawrence recreation center. I'm beginning to hear rumblings that the idea of a West Lawrence recreation center is beginning to heat up again. If you remember, parks and recreation leaders have said city-owned property just behind Walmart at Sixth and Wakarusa would work well for a new recreation center. The project would include multiple gyms, a large exercise area and several other features. I think Kansas University basketball coach Bill Self's foundation is close to committing some significant dollars to a recreation center/wellness center project. Self also may be willing to lend his name and time to some private fundraising for the project. But, even with Self's significant help, the project largely would be publicly funded. The city has sales tax dollars that it once was using to pay for the city's Indoor Aquatic Center that are now available since the indoor pool's debt has been retired. I would expect the idea to come up during the city's budget process this summer. It will be an interesting discussion to follow. On one hand, you have a chance to leverage public money with private money. On the other hand, the economy is still slow and the available sales tax dollars could be put to use in other parts of the city's budget. I'll report back when I hear more specifics about how many dollars we're talking about.
• Indeed, city officials soon will start formally processing a request for a property tax break to help the Olive Garden locate at 27th and Iowa streets. City commissioners at their Tuesday evening meeting will receive a letter from the development group and ask staff and the city's Public Incentives Review Committee to make a recommendation on what the city's role should be in the project. The development company wants to use the Neighborhood Revitalization Act, which would allow the project to receive a rebate on a portion of the new property taxes generated by the development. But the letter doesn't spell out what the Kansas City area-development company is asking for, such as has how many years it wants to receive a rebate and what percentages of the new taxes it wants rebated. But the letter did include a copy of "concept plan" that shows there would be one other tenant on the site in addition to the Olive Garden. The plan shows the Olive Garden occupying a 7,500 square foot building near the northeast corner of 27th and Iowa. But the plan also shows another 5,100 square feet of space north of the Olive Garden building. Presumably, that space also would be subject to the property tax incentive as well. The plan doesn't hint at what type of tenant could go into that space.
• Since we started reporting on the Olive Garden deal last week, I've heard lots of comments, including a few from inside the development community. One thing I've heard is that the property tax break will do a lot more to help the development group — MD Management — than it will Olive Garden. Follow along with this logic: MD Management will use the property tax break to offer Olive Garden a lower lease rate on the project, but the lease rate won't be below the market rate currently offered in the city. For example (and these numbers are purely made up for illustrative purposes), say that MD without the property tax break would have to charge the Olive Garden $25 per square foot in order to break even or make money on the deal. With the property tax break, they could charge $20 per square foot and still make the deal work. Under that scenario, Olive Garden would be paying a lease rate in line with what the market is charging other new entrants but less than what it would have to pay otherwise at that site. And — I've heard argued — Olive Garden wouldn't have an unfair advantage over other restaurants because it would not be paying a below market-rate lease. You can decide whether that makes sense to you.
But it does seem that this deal comes down to the fact the development group purchased the 27th and Iowa site at a price that is higher than what it is worth in today's environment. In its letter to city officials, the group acknowledges it bought the property at "the height of the real estate market," and that it originally was planned to house a neighborhood pharmacy. I'll be interested to see whether other developers in the community start stepping forward with sites that they can offer Olive Garden that will work without a property tax break. There certainly are several developments in town that are zoned and ready to accommodate a sit-down restaurant. I can think of four off the top of my head — Bauer Farms on the northeast corner of Sixth and Wakarusa, the Walmart outlots on the northwest corner of Sixth and Wakarsua, the Mercato development at Sixth Street and the South Lawrence Trafficway, and the Fairfield Farms development at 23rd and O'Connell.
But, of course, Olive Garden leaders know of those sites too. There's probably a reason they are most interested in 27th and Iowa. We'll find out soon enough whether city commissioners agree with it.
Copyright 2018 The Lawrence Journal-World. All rights reserved. This material may not be published, broadcast, rewritten or redistributed. We strive to uphold our values for every story published.