When Lawrence resident Harry Herrington began a career as a police officer in the mid-1980s, he made a commitment.
"Every police officer makes a promise," he says. "You look at your buddy and say, 'If something happens to me, take care of my family.' And you promise to do the same for them."
Fortunately, he's never had to make good on that promise, but he's keeping it just the same.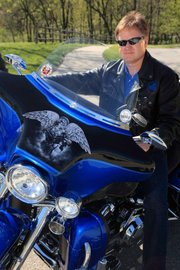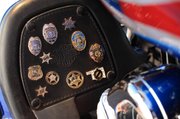 Now the CEO of Olathe-based NIC Inc., a publicly traded company with offices in 25 states, he's on a mission to ride a Harley to every state capital to raise money and awareness for the surviving loved ones of fallen officers.
Launched in 2009, Herrington's Ride4Cops has taken him to 14 state capitals and has raised $150,000 for Concerns of Police Survivors, or COPS, a national nonprofit that provides resources for families of officers who have died in the line of duty.
When Herrington rides to a state capital, he personally donates $1,000 to the state office of COPS, an amount that his employees match, which is added to the money raised through donations. In addition, NIC donates $25,000 annually to the COPS national office.
"I never expected my employees to get involved," he says. "They even created a website for this.
"I've had my socks knocked off by what they're doing."
On a trip in mid-May, Ride4Cops raised $5,000 in Virginia and $3,000 in Washington, D.C., and also donated $20,000 to the National Fallen Officers Memorial.
"I've been a fundraiser for 15 years, and I can say, he's the real deal," says Carolyn Davinroy, development director for COPS. "He is just a stand-up guy.
"He comes to all of our events," she adds. "He runs in our 5K and even puts up a team for our golf tournament."
While the funds Herrington raises are helpful for COPS and the families they serve, his bike offers something that is in many ways even more valuable: a memorial to honor the lives of those who've been killed.
It's a 2008 Harley Ultra Classic, painted in law-enforcement blue ("Same color as KU blue," Herrington notes.) The bike is adorned with a painting of St. Michael the archangel leading an officer to heaven, flags painted at half-staff on both sides of the tank and badges with a black band across them.
"The bike represents so much more than I anticipated," he says. "Families give me letters and photos and ask me to carry them with me on my bike, memories of husbands, fathers — the people behind the badge."
On a swing through the Southwest, a widow came up to him and told him about her husband who was killed entering a house on a drug raid. He gave her a hug, and she left, but then came back holding some photographs.
She told him she kept the pictures on the visor in her car so she could look at her favorite pictures of her husband every day.
"I want you to carry these on your bike," she said.
"Are you sure?" Herrington asked.
She told him it would mean much more to her if he had them with him on his bike.
"It just tears at your heart," Herrington says.
When Herrington completes his mission, he'll donate the Harley to COPS.
"I can't imagine riding it anywhere else," he says.
Copyright 2018 The Lawrence Journal-World. All rights reserved. This material may not be published, broadcast, rewritten or redistributed. We strive to uphold our values for every story published.