Think back to what it was like when you were a kid and some grown-up would ask you that vaunted question, "What do you want to be when you grow up?"
Astronaut. Actress. Microbiologist.
Whatever your answer, often the grown-up would give you a look of guarded optimism that, as adults, we can look back on and say was actually a look that combined feelings of "Wow, to have your whole life ahead of you" and "Good luck with that, kid."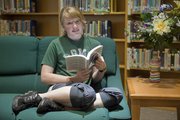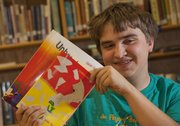 Kennedy Younger Dold and Gavin Spence won't be getting those looks anymore. Not when they say, "I want to be a writer. Actually, I am a writer. Want to see a copy of my book?"
Kennedy, a student at South Junior High School, and Gavin, a student at West Junior High School, each are the recipients of the coolest gift a writer could receive: instant publication of a book.
In May, their books were published by Jayhawk Ink, a print-on-demand publisher connected to the KU Bookstore. Each received two printed copies of their books, free ISBN registration so they can sell them and any royalties from the sales of their books.
"She got to see how the whole thing works and it's really neat for her to actually get her book published and out there in people's hands. It's pretty amazing," says Kennedy's mom, Jean Younger. "It's really nice of KU to do that. ... For the kids here in town to be able to do something like this and get their books published, I mean, what a boost."
Estella McCollum says the idea came about when the store became a test site for new Hewlett-Packard printing equipment last summer.
"They also provided some grant money for us to reach out and provide some community opportunities. And so along with that it was really our idea to reach out into the schools," McCollum says. "It's a pretty cool opportunity to be able to see, like a Krispy Kreme doughnut, a book being made. Especially if it's a book you help create, that's pretty cool as a kid."
McCollum approached both high schools and each of Lawrence's four junior highs to ask if they'd be interested in choosing a student for publication. She received interest from both South and West junior highs.
South, Kennedy's school, decided to form the Aspiring Authors Club and hold a competition to see which writer from that school would be published. Kennedy ended up winning with a book she'd been working on since elementary school about what would happen if the Greek gods were teenagers. The result is "Amelia and the Heroes of Old."
"So, basically, it's a story about these 10 13-year-olds that discover that they're the Greek gods. Each one of them has powers," Kennedy says. "They finally figured out that these skills aren't just because they're there — they're there because of their divine heritage, they are the Greek gods."
Kennedy's teacher and adviser Kathleen Scollon says she was just amazed at the young writer's ability to keep a large cast of characters in check and moving well.
"When I started reading it, I thought, 'Oh my lands, why does she have so many characters? How is she going to do this?' And I was worried because it was a huge family," Scollon says. "And then, as I read, I realized where she was going with it and she actually immersed them into mythology. That's very upper level, and she did a good job."
At West, the school already had a very active writers' group, Written & Illustrated, that had been going for years. In fact, Gavin had joined as a seventh-grader and had already self-published the prequel to his winning book, "Unbreakable II."
"It's about this guy named Shane whose parents died in the first one because aliens mysteriously came to his house," Gavin says. "So then Shane's left alone — his family's gone — and he ends up getting superpowers and ends up destroying most of the aliens."
At the club, librarian Betty Kline says she was impressed with how Gavin would turn a conversation with his friend into a scene that made sense in the context of the book.
"All of his friends are in this book. The way he named his characters is a scream," she says, laughing. "All of these are students at West, but they've been morphed into these superheroes."
Needless to say, both young writers are over the moon about the win, which also netted them each a HP netbook as part of the funding.
"I was a wonderful opportunity, and I probably can't thank KU enough for everything," Kennedy says. "I always knew that I wanted to get my book published. I didn't necessarily know it was going to be this soon."
Copyright 2018 The Lawrence Journal-World. All rights reserved. This material may not be published, broadcast, rewritten or redistributed. We strive to uphold our values for every story published.