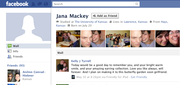 The day Amy Spencer, along with her husband and two children, died in a plane crash in Jefferson County earlier this year, friends and family were already memorializing Amy on her Facebook page.
"We will miss you and your family. May you rest well in God's hands," wrote one of Amy's friends.
And three years after the death of Lawrence woman Jana Mackey, Kelly Tyrrell still posts messages in memory of her childhood friend.
"Today would be a good day to remember you, and your bright warm smile," Tyrrell recently posted.
The posts become a living, online obituary, a trend seen locally and nationally, said Molly McHugh, a junior staff writer at Digital Trends, which operates a media-trend monitoring website.
New sites, such as 1000memories.com, have even popped up that cater to helping friends and family maintain a social media afterlife for loved ones.
"It's been interesting to see," said McHugh of the trend's evolution.
She noted several positive aspects of the online interaction between the living and the deceased. For instance, it can provide a bridge for those who may not be able to travel to a traditional memorial location. That was the case with Tyrrell, who lives out of state and wasn't able to attend Mackey's funeral.
But the trend has forced social media sites to examine how to handle protecting the deceased, in what at times has led to awkward and grief-causing moments.
McHugh cited instances where people find out first online that a relative or friend has died, or cases when the deceased pops up in the "people you may know" section.
To address such issues, Facebook developed a memorialized account option. A close friend or relative notifies Facebook of a death, and the account is frozen to friend requests or other changes, while still allowing friends to post on the deceased's wall.
Tyrrell said she's glad such an option exists, as it allows her to remember her friend.
"It just feels good," she said. "It feels like she hears me."
Copyright 2018 The Lawrence Journal-World. All rights reserved. This material may not be published, broadcast, rewritten or redistributed. We strive to uphold our values for every story published.