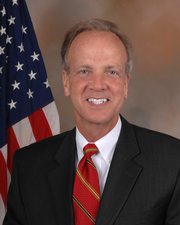 The Kansas Lions welcomed one of their more politically distinguished members at a luncheon Saturday at their 90th annual convention.
Longtime Lion U.S. Sen. Jerry Moran, R-Kan., stopped by the convention at the Holiday Inn Lawrence, 200 McDonald Drive, and spoke to hundreds of fellow members, many clad in purple and yellow vests.
"Lions has been an important component of my life for a long time," Moran said.
As a member for the past 35 years, Moran said the club helped him learn the value of local public service.
"If you want to make a difference, do it in your own community," he said.
Becoming a Lion at age 22, Moran said he was the youngest member of his club. Looking out at the mostly silver-haired crowd, Moran joked, "I'm fearful I'm still the youngest one."
Moran encouraged outreach to a new generation of members and future public servants.
"We need to find those 22-year-old men and women," he said.
Lions International President Sid Scruggs presented Moran with the International President's Medal at the luncheon. Saturday was the last day of the three-day convention in Lawrence, where Lions from all over the state discussed public service projects and budgets, and conducted club elections.
Copyright 2018 The Lawrence Journal-World. All rights reserved. This material may not be published, broadcast, rewritten or redistributed. We strive to uphold our values for every story published.