Maintenance to help clear brush along numerous trails at Hidden Valley will be from 8 a.m. to noon today. The public is welcome. A rain date has been scheduled from 11 a.m. to 3 p.m. Sunday. Long pants and sleeves, and sturdy shoes are recommended. For more information, call 865-4657 or durandi@sunflower.com.
The Memorial Brick Pathway at Hidden Valley Camp, 3420 W. Bob Billings Parkway, will be dedicated at 1:30 p.m. June 16 rain or shine. The ceremony will feature a wildlife release by Operation Wildlife and a butterfly release by Girl Scouts. The dedication will be held at the Friends Memorial Garden south of Ar-ca-loo-ka cabin. The 2011 inaugural honorees are: Dora Bice, Bob Billings, Ed Bishop, Marguerite Bishop, Carolyn Blaas, Mary Hall, Emily Latimer, Marguerite Lockwood, Carolee Martin, Celia Miller, Galen Miller, Linda Penny, Jack Rader, Henry D. Remple, Mariana Remple and Anna Stouffer. For reservations, call 749-3702 or leesadterry@gmail.com.
Troop 61 celebrated Dakota Zinn's advancement to the rank of Eagle Scout on May 19. Zinn, 15, is the youngest Eagle Scout in quite some time. He is the son of Rod Zinn and Kim Brenner.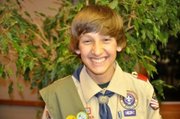 Zinn has held just about every leadership position in not one but two troops. He spent most of his Scouting career in Troop 52 before moving to Troop 61. Zinn currently serves as senior patrol leader, but has also served as chaplain's aid, assistant senior patrol leader and Order of the Arrow troop representative. He earned the 21 required merit badges, plus 30 more. For his Eagle project, spanning the course of more than 25 months, Zinn organized professional engineers and Scouts in building and installing the United Methodist Cross & Flame at First United Methodist Church West Campus – Celebration Center (867 Highway 40). His accomplishment required building permits, fundraising, and contributions from local business and private donors. In addition to the steel structure, Zinn organized Scouts from Troop 61 in a landscaping project around the Cross & Flame.

He also plays baseball for Free State High School, is a member of the honors Choir and Bell Canto at Southwest Junior High School, and he cares for his five horses. Zinn attended the Philmont Scout Ranch last summer and hiked a 70-mile trek.
Scott Ragan, the son of Ron and Becky Ragan, was the second Eagle Scout for Troop 59 who also successfully passed his Eagle Board of Review on April 18. Ragan is a senior at Free State High School. He is a member of the Penguin Monkey Squad (PMS) patrol and has held many leadership positions with Troop 59 including troop guide and senior patrol leader. Ragan is Warrior, Soft Rustling Oak Leaf in the Tribe of Mic-O-Say. He participated on five high adventure treks with Troop 59 including Philmont, Double H, Sea Base, Green River and the Rocky Mountain National Park.

For his Eagle Leadership service project, Ragan created a tricycle track and talking tubes at Kennedy School's four-year-old preschool program. Talking tubes are PVC pipes constructed so that one child speaks into one end and another child listens at the other.
Stefan Franciszek Kuczera, son of Krzystof Kuczera and Joanna Wiorkiewicz-Kuczera, became Pelathe's newest Eagle Scout on May 12. He began his scouting career with Troop 52 as a member of the STUDS (Scouts Teaching Uther Dudes Skills) Patrol and ended his career with Troop 61 and the Trojan Patrol. Kuczera, 18, has just graduated from Free State High School. He will attend the Webb Institute in Glen Cove, N.Y. on a full scholarship, where he will study marine engineering and naval architecture.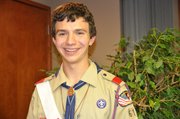 Kuczera was a very active member of both Troop 52 and 61. He participated in regular weekend camping, various service projects and has attended Philmont Scout Ranch in 2007 and 2010.
Kuczera has earned 40 merit badges including the Polski Interpreter Strip, the first one known to have been issued in the Heart of America Council. For his Eagle project, he built five large dog houses, which were a benefit for the Lawrence Humane Society.
Copyright 2018 The Lawrence Journal-World. All rights reserved. This material may not be published, broadcast, rewritten or redistributed. We strive to uphold our values for every story published.