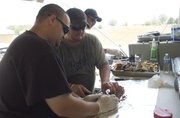 McLouth — A group of Jayhawk enthusiasts started their barbecue hobby at a Lawrence-area church cook-off a few years ago.
"We found out we didn't know how to cook," said Tim Flory, one of three Lawrence area men who make up the barbecue team of Crimson and Blue BBQ Crew.
Now Flory and teammates Bill Walker and Jeremy Douglass attend 18 barbecue contests each year.
Saturday they were in McLouth's Prairie Park for the 20th annual McLouth BBQ Blowout. It was their third year at the Kansas City Barbecue Society event where barbecue enthusiasts were offering their best cuts of chicken, ribs, brisket, pork and sausage.
The group arrived at the event about 3 p.m. Friday afternoon and set up shop with their camper and various smokers. At 4 a.m., they started preparing their entries in their smokers. Early Saturday afternoon, the group was preparing a container of meat for judges. Flory said good presentation was imperative — and putting a little extra meat on the plate for the local judges.
It's an expensive hobby, Flory said, as Douglass estimated it costs about $10,000 per year in expenses associated with all of the nearly 20 contests. The team does offset some of the costs with winnings at contests, Flory noted.
The friends always head each January to Lakeland, Fla., for a contest there, which is the first KCBS sanctioned event of the year.
The reason?
"Get the hell out of Kansas in January," Flory said with a laugh.
The team also sells their product at various events.
The event Saturday had other offerings, including inflatable games for children, vendors, a petting zoo, horse rides and firemen's tug-o-war.
The tug-o-war, sponsored by the McLouth Fire Department, had two people at opposite ends, each equipped with fire hoses attempting to push an old keg across a horizontal cable several feet in the air.
Copyright 2017 The Lawrence Journal-World. All rights reserved. This material may not be published, broadcast, rewritten or redistributed. We strive to uphold our values for every story published.