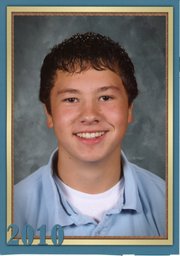 Photo Gallery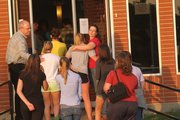 McLouth residents gather to mourn Justin Johnston
Lora Schneider's son Jackson, a Free State sophomore, was on his way back from an educational tour in Washington, D.C., when she heard about the death of a McLouth student in Costa Rica.
"My heart just dropped," Schneider said. "I just went numb. We're all kind of shocked."
Schneider said she'd considered sending her son on a trip overseas, and might still do so in the future, but the news about the shooting death of Justin Johnston certainly gives her pause.
It also provided her an opportunity to sit her son down and have a serious discussion about following safety measures when on such trips.
Wayne Dedloff's son, Hunter, also a Free State sophomore, was on the same D.C. trip. They had also considered an overseas trip for Hunter, but decided against it.
Dedloff said he was "a little apprehensive" about sending his son overseas, but that the shooting in Costa Rica didn't have a big impact on his level of concern.
"It can happen anywhere," said Dedloff of potentially dangerous situations on educational trips.
Schneider said the recent news has been a hot topic among parents, and many were just relieved when there sons and daughters returned safely from the trip Thursday night.
"(Jackson) got an extra big hug when he got home," she said.
Copyright 2018 The Lawrence Journal-World. All rights reserved. This material may not be published, broadcast, rewritten or redistributed. We strive to uphold our values for every story published.