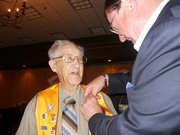 Lawrence resident Ned Link has spent more than three-fourths of his life as a member of the Lions Club.
That's 75 years.
Friday evening during the Kansas Lions annual convention, Link was recognized for his contributions and commitment to the club, which works to serve the community through services that include educational, humanitarian and charitable projects.
Link has been involved with the Kansas Lions since 1936 and has been involved with the Lawrence club since 1967.
"He is sharper than a tack," fellow Lion Robert Jernigan said of the 96-year-old Link. "In the short time that I've known Ned, I've learned to really appreciate him."
Those sentiments were shared by many of Link's friends and acquaintances at the state convention at Holiday Inn Lawrence, 200 McDonald Drive.
Local resident Gary Beasley, who's known Link since the '60s, said there weren't many people better.
"He's just a wonderful gentleman," Beasley said. "Really a terrific guy."
Involvement in the Lions Club runs deep in Link's family. He became a part of the service community after following in his father's footsteps years ago.
"He was much more effective than I was," Link joked.
Family members including his son, Rick, and grandson, Guy, joined the elder Lion at the banquet. Rick commented on the amazing atmosphere the club created among its members.
"It's the fellowship of people that are trying to help other people," he said. "It's just the feeling among them. People just keep things going year after year."
Ned is a prime example of that. For his 75 years of service to the club, he was awarded Friday with numerous certificates and a trophy. Upon accepting the gifts, Link found himself close to tears.
"People love him," Guy said.
And Link, whose sense of humor is widely known among the Lions community, put some on display. His reason for staying involved in the club for so long was short and simple.
"I like to live and be here," he said.
Copyright 2018 The Lawrence Journal-World. All rights reserved. This material may not be published, broadcast, rewritten or redistributed. We strive to uphold our values for every story published.