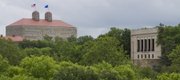 Subscribe to the email edition of Heard on the Hill and we'll deliver you the latest KU news and notes every weekday at noon.
Your daily dose of news, notes and links from around Kansas University.
• A KU English professor looks for new meaning in the Harry Potter series in her new book, "Reading Harry Potter Again: New Critical Essays."
Giselle Liza Anatol put together the essays, written by English professors and other scholars, according to a KU release.
"When I first started putting it together, there was very little scholarly writing on the series," Anatol said in the statement. "I wanted to do more of an in-depth literary analysis. People think of Harry Potter books or children's literature as content-free fluff. I feel like they do deserve to be examined and interpreted to see what ideas people are getting."
She's also looking into the "Twilight" book series.
• I hear occasionally from readers who enjoy these postings because they have moved away, but keep up on what's going on at their alma mater.
So, this little blurb is for all of you.
A neat feature I found on the Spencer Museum of Art's website allows you to search the collection, "even if you're several time zones away."
It doesn't have the complete collection (yet), but you can find all the museum's works by, say, Thomas Hart Benton, if that's your thing.
A neat service, I thought.
• A few more quick details on the Ecumenical Christian Ministries' successful capital campaign that wrapped up last month.
The campaign received nearly $28,000 from about 20 different churches and church organizations in Kansas. The 360 individual donors contributed more than $417,000.
The ECM earned $120,000 in tax credits, $8,600 from organizations and $261,000 from grants, foundations and trusts.
The funds will go toward new renovations for the historic building. Even though the campaign wasn't without anxiety at times (to meet a deadline for a challenge grant from the Mabee Foundation in Tulsa), here's some Heard on the Hill kudos to the donors and fundraisers who helped make this effort a success.
• I'll be out of the office today, so no Heard on the Hill for Monday. Keep the tips coming, though, at ahyland@ljworld.com.
Copyright 2018 The Lawrence Journal-World. All rights reserved. This material may not be published, broadcast, rewritten or redistributed. We strive to uphold our values for every story published.