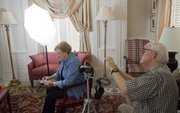 Driving 26,500 miles in a 10-year-old pickup and towing a 31-foot-long trailer, Sara Brown and Paul Steinle are taking a decidedly old-fashioned approach to solving a 21st century quandary.
With consumers increasingly relying on the Internet and smartphones and an ever-expanding array of devices to exchange, share and compile information for free, just how can a trusted provider of information — the newspaper — survive and thrive?
Finding the answer, they say, could go a long way toward determining just how much character is retained by small towns and big cities alike.
"Something's at stake here, and that is sort of the local identity of these communities," said Steinle, who fears the newspaper industry could follow the loss of local radio during the past two decades. "I mean, do you want a community that's all 'American Idol,' or do you want one that actually has something of its own to be proud of?"
Steinle and Brown are journalism educators serving as on-the-scene staff writers behind an nationwide research project — dubbed Who Needs Newspapers? — backed by their own not-for-profit organization, Valid Sources. The goal: check in with publications throughout the country to see what's working and not working, and to clarify what they see as the value of newspapers for the public.
So far they've visited 45 publications in 45 states, filing reports along the way. Steinle and Brown started in June 2010 at the Sequoyah County Times in Sallisaw, Okla., and on Thursday stopped by the News Center, 645 N.H., to interview leaders of the Journal-World.
Newspapers are more than newsprint. Brown said: Such operations provide vital information to communities through both print and, especially now, digital platforms.
"There's definitely a transition in process," she said.
And the best companies are finding ways, incrementally, to move ahead, Steinle said. While newspapers for years have been using traditional advertising to finance 80 percent of operations, Steinle figures that newspapers will get into what he calls the "transactional" side of business.
"Why does Amazon work?" he asked. "It's because of their transactional service. They don't make books; they just sell them, and distribute them to people.
"Newspapers are really good at connecting people, but they've never taken a piece of the action out. They've always just charged for advertising. So, if they could take a piece of the transaction — you know, 2 percent, just like American Express does, or Amazon and all those people — that might be the answer. Who knows?"
Steinle and Brown continue their search for answers. Still to come are visits to media operations in Nebraska, Iowa, Minnesota, South Dakota and North Dakota.
To see their reports and learn more about the project, visit WhoNeedsNewspapers.org.
The Journal-World report should be available in about 11 weeks, Steinle said.
Copyright 2018 The Lawrence Journal-World. All rights reserved. This material may not be published, broadcast, rewritten or redistributed. We strive to uphold our values for every story published.