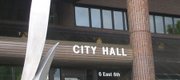 Subscribe to the email edition of Town Talk and we'll deliver you the latest city news and notes every weekday at noon.
News and notes from around town:
• As home to more than 20,000 students, Lawrence long has had a bit of a party reputation. But now, it seems, there is an effort to expand it, but not by students. What I'm talking about are receptions and banquets. There has been a flurry of activity from entrepreneurs looking to provide people with a place to party.
We've previously reported on Steve Maceli's idea to convert the vacant Masonic Temple in downtown into a reception, banquet, and meeting venue. Before that, the Castle Tea Room underwent a major renovation and emerged as a new type of player on the reception scene. Also, the business plan of The Oread hotel seems to rely heavily on attracting receptions and such. And, of course, the city has decided to expand its role in the business. It began offering this year reception and meeting space at the former Carnegie Library at Ninth and Vermont.
It seems the trend is not over. Plans have been filed at City Hall to convert a vacant building near Seventh and Connecticut streets into a banquet and meeting facility. Grant Lechtenberg, an owner of ES Lighting at 724 Conn. has filed plans to convert an adjacent building he owns at 704-706 Conn. into a banquet and meeting facility. The building — which is just north of the Habitat for Humanity Re-Store — would offer about 4,500 square feet of space for everything from small corporate meetings to mid-sized wedding receptions. I don't believe that Lechtenberg ultimately will be the operator of the reception business, but who will be isn't clear to me. Lechtenberg didn't want to say much about the project when I got in touch with him.
The site is within walking distance to a couple of downtown hotels, many churches that host weddings and multiple restaurants that could serve as caterers. City planners, though, are trying to figure out how parking would work at the location. A planner working on the project told me the developers are trying to work out deals with some nearby businesses that are typically closed after 5 p.m. There lots could be used for evening receptions, and the business would provide either valet parking or a shuttle.
• Just like the salad and bread sticks, it seems the comments about a proposed Olive Garden Italian Restaurant and the tax breaks that developers are seeking for it just keep coming. I spent a good part of Wednesday talking to folks about the concept. Here are a few things I didn't work into the article that is in today's J-W.
There will be a debate over how much new dining business the Olive Garden will bring to the city. Several members of The Lawrence Originals — organization of locally owned restaurants — contend it won't do much.
"It is not a destination restaurant," said Doug Holiday, owner of Biggs BBQ and president of The Lawrence Originals. "The Brookville Hotel or something like that is a destination restaurant. I don't think this is going to do much to increase people's propensity to eat out.
But City Commissioner Mike Dever told me that he thinks the restaurant does have the potential to put Lawrence "in play" as a place for area residents to dine and shop. He said there is no question that the Olive Garden runs successful marketing campaigns that bring people to their restaurants. When those people are from Baldwin City or Jefferson County or Ottawa — all places without an Olive Garden — where do they currently go? The answer is: Not Lawrence. Dever suspects many times they don't just go to eat, but also will do a little shopping as well.
The issue is an important one because it will help determine how big of an economic impact the restaurant could have on city coffers. Based on some sales projections, the restaurant could generate about $125,000 per year in sales tax collections for the city and county. But how many of those sales will come at the expense of existing restaurants versus new sales that Lawrence wouldn't have gotten otherwise? It is a big question that probably will be tough to answer definitively.
A crystal ball doesn't always work. Many times when a national retailer comes into a community, you hear concerns about how it could drive out local retailers. That is certainly an argument that will be made here. But such things can be tough to predict. It was mentioned in conversation yesterday that many people years ago were sure that Borders was going to decimate the local bookstore market in Lawrence. Of course, if you come down here to Seventh and New Hampshire, you can still buy a book at locally-owned mainstay The Raven, but good luck buying anything at Borders. After Borders closed, some bookstore owners did say that the national chain actually helped business because it brought more book buyers into the general area. Could the same thing happen at 27th and Iowa? Could the Olive Garden bring more diners to that intersection and increase the exposure of other restaurants in the area? I don't know. My crystal ball doesn't work either.
Jobs will be a topic of discussion. The Olive Garden likely would employ about 75 full and part-time employees. But already, The Lawrence Originals have tallied up its numbers to remind folks of the contribution locally owned restaurants make to local economy. There are 21 locally owned restaurants in The Lawrence Originals group, and they have a combined annual sales total of $24.1 million. They employ 938 people. Plus the group points out that one study suggests that locally owned restaurants returned 56 percent of their revenues to the local economy (through wages, purchase, donations, etc.) while chain restaurants averaged 37 percent.
The dynamics of this debate will be interesting to watch. Often, a development proposal finds its stiffest opposition from neighbors or other similar groups that have concerns about things like traffic or planning or other issues. But this time, it will be a group of business owners leading the charge. That will make for an interesting decision at the Lawrence Chamber of Commerce. Many of these local restaurant owners are chamber members. In talking with several yesterday, I get the sense that this is a make-or-break issue with them. They'll push hard for the chamber to come out against this proposal. Who would have thought one Italian restaurant could have created so many questions.
• I also got forwarded to me yesterday an article out of the Wichita Eagle. It was about a small grocery store chain that wanted a tax subsidy (a special sales tax district) to build in the Wichita area. It didn't get it but ended up building anyway.
I'm not sure how analogous it is to the Olive Garden request, but it caught my eye because it is a small grocery store chain. It is locating in a 20,000 square foot building, and it focuses on selling "value-priced food and staples." The franchise is called Save-A-Lot. The franchise owner says he has plans for more stores in Wichita.
I have no idea whether Lawrence is on his radar, but I do know there is a 20,000 square foot building sitting empty at Seventh and New Hampshire (with parking), and that people have been clamoring for a downtown grocery store. Or what about one in North Lawrence? It would be interesting to see if that national chain could win a tax break at Lawrence City Hall.
Copyright 2018 The Lawrence Journal-World. All rights reserved. This material may not be published, broadcast, rewritten or redistributed. We strive to uphold our values for every story published.