Photo Gallery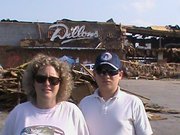 Lawrence residents volunteer in Joplin, Mo., during Memorial Day weekend
These photos were taken by Randy Lewis, a Lawrence resident and owner of the Lawrence sewer and drain contracting business Pronto Rooter. He and his 14-year-old son, Justin, volunteered over Memorial Day weekend clearing debris in Joplin, Mo., while his wife, Diane, answered phones at a volunteer center. Diane Lewis is an employee of the World Company.
-->
Photo Gallery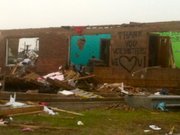 Joplin tornado damage
Volunteer Liz Devin submitted these photos after her trip to Joplin with her husband Cedric to volunteer at a local animal shelter.
To Volunteer in Joplin
The United Way of Southwest Missouri and Southeast Kansas has established a website for volunteers looking for opportunities in Joplin.
Because of the high volume of calls and emails, the United Way asks people not to contact them unless there is an emergency.
Projects are listed by date and time and volunteers can sign up and volunteer after signing a waiver.
Lawrence residents who visited the tornado-ravaged city of Joplin, Mo., over Memorial Day weekend to help with relief efforts came back with a new respect for nature's destructive power and for the resilience of the town's people.
"It really looked like a nuclear bomb had gone off," said Cedric Devin, who, with his wife Liz Devin, owns Christal K-9, a dog grooming, day care and boarding facility in Lawrence. "Words can't describe it. Pictures can't describe it either."
He and his wife heard from a friend in Joplin, and decided to forgo their Memorial Day plans and instead spend time volunteering at the city's animal shelter.
They were licensed and had experience in cleaning cages and dealing with frightened animals, so they were selected to help with the effort.
Cedric Devin said the shelter had about 500 animals before the tornado, and had about 600 new ones come in after the storm. The shelter was not damaged in the storm, but had to expand to a nearby vacant warehouse space to accommodate the new animals, he said.
The Devins brought back a black lab for which they're hoping to find a foster home while the dog's family gets resituated.
The shelter is also dealing with a number of families coming in and trying to find their pets, Liz Devin said.
"The animals are so afraid, it's hard to get a good picture," she said.
She came back to Lawrence with photos and videos of the destruction, and the stories she heard while talking to people in the city. Some people told her of a man who saved the lives of others while he held a restaurant's cooler door shut during the storm, only to get sucked out himself.
And her friend's 19-year-old daughter broke down when she heard a friend who had been missing was dead.
"I just can't quit thinking about it," Liz said.
Lawrence resident Diane Lewis, who is an employee of The World Company, which owns the Journal-World, went to Joplin with her husband Randy and their 14-year-old son Justin.
"The more I watched the news media and the coverage, the more we thought maybe we could go down and see what we could do to help," Randy Lewis said.
They called a volunteer center and signed a waiver before Diane answered phones and Randy and Justin boarded a bus and helped clear debris with their chainsaw and other tools. He said about 4,000 volunteers were in the city on Saturday.
It took awhile for reality to set in, he said, among the remains of people's homes, as he helped sort debris and other personal belongings.
"You almost felt like you were on a movie set," he said.
Copyright 2018 The Lawrence Journal-World. All rights reserved. This material may not be published, broadcast, rewritten or redistributed. We strive to uphold our values for every story published.