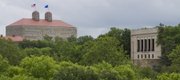 Subscribe to the email edition of Heard on the Hill and we'll deliver you the latest KU news and notes every weekday at noon.
Your daily dose of news, notes and links from around Kansas University.
• The KU Cancer Center has filled another key leadership position as it counts down the days to its application for designation as a National Cancer Institute in September.
Raymond Perez, a physician-scientist with expertise in early phase clinical trials, will become the medical director of the Clinical Trials Management shared resource at the KU clinical research center in Fairway, which is scheduled to open in early 2012 at 4350 Shawnee Mission Parkway.
That building was donated by the Hall Family Foundation as part of an $18 million gift to the cancer center, and is supported by revenue from the Johnson County Education and Research Triangle sales tax.
Previously, Perez was associate professor of medicine and pharmacology and toxicology at Dartmouth Medical School, and more than doubled the number of patients enrolled on early phase clinical trials at the NCI-designated Norris Cotton Cancer Center.
Perez will also teach at KU Medical Center in the department of internal medicine as the Lieberman family endowed professor in cancer research.
• Here's an interesting idea I saw while perusing old articles in the Chronicle of Higher Education (hey, you've got your ideas of fun, I've got mine, OK?).
The University of North Carolina-Chapel Hill's faculty senate has moved to include the median grade in the class, along with students' percentile ranks against their peers.
The transcript will also reflect how often the student scored above, at or below the median grade.
Just an interesting idea, I thought. I know I've got a few lower grades on my transcript that I worked a lot harder to earn than a few of the A's, and it would be nice if that were reflected somewhere officially.
Not that a lot of people are looking at my college transcripts these days. Which means I don't have to explain that C in Professor Yaozhong Hu's statistics class (that grade was definitely below the median, by the way…).
• One place that's still busy over the summer at KU is the Natural History Museum.
They'll be offering summer camps again this year throughout June. Friday is the deadline to register, and all but the Space Odyssey camp is filled to capacity. Registration for the camps is $80.
And the museum will be offering a wetlands walk with Roger Boyd, wetlands manager, with registration ending Friday. Here's some additional information.
• From trying to reach folks around campus this week, it's apparent you're all on vacation somewhere. I can hardly blame you, with spring classes and commencement all done, and summer classes not starting until next Tuesday. So, instead of tips, why don't you just break out your smartphone and send me vacation photos at ahyland@ljworld.com?
Copyright 2018 The Lawrence Journal-World. All rights reserved. This material may not be published, broadcast, rewritten or redistributed. We strive to uphold our values for every story published.