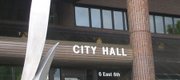 Subscribe to the email edition of Town Talk and we'll deliver you the latest city news and notes every weekday at noon.
-->
News and notes from around town:
• The Olive Garden is becoming serious about building a restaurant on South Iowa Street, but it appears city commissioners will have to be willing to provide the development a property tax break to get the deal done.
As we previously reported, the Italian restaurant chain is considering a location at the northeast corner of 27th and Iowa streets. A representative for a Kansas City area development group that controls the property confirmed this week it is in negotiations with Olive Garden officials.
"They are very interested in the site," said Matt Gough, a Lawrence attorney who is representing MD Management Inc.
But Gough said the project won't get done unless city, county and school district officials agree to allow some of the property taxes generated by the new development to be used to help pay for improvements at the site.
"It is absolutely essential," Gough said of the provision.
MD Management officials are expected to formally request that the city use the Neighborhood Revitalization Act to spur the development at the site — which includes the corner lot that used to house a Mazzio's pizza place and two other lots that previously housed a Chinese restaurant and a chiropractor's office. City officials recently agreed to use the Neighborhood Revitalization Act to entice Lawrence-based Treanor Architects to move its headquarters downtown.
The act sort of functions like a tax abatement, but not quite. Unlike a tax abatement, the development would pay 100 percent of its property taxes each year. But it then would receive a rebate on a portion of those property taxes. But the act — which has been in existence for many years but is new to Lawrence — stipulates that not all of the property taxes can be rebated back to the development. Specifically, the site must generate at least as much in property taxes as it did before the project occurred. In this case, it appears the site is generating about $53,000 a year in property taxes. The city, county and school district would continue to receive at least that much in property taxes. But the NRA would allow all or a portion of the property taxes over and above that amount to be rebated back to the development, perhaps for 10 to 20 years.
But, unlike other incentives proposed for retail projects in Lawrence, this deal does not include any use of a special sales tax district. It previously was speculated that the development group would seek use of a Community Improvement District that would charge customers and extra 1 percent or 2 percent sales tax to help pay for the development. But after the April City Commission elections, it became clear that such special taxing districts would face opposition at City Hall.
Top vote-winner Bob Schumm ran a campaign that called the special districts "sneaky taxes" and struck a chord with voters on the issue. But, the idea of using the Neighborhood Revitalization Act to attract new retailers didn't receive much discussion during the campaign.
I'm guessing this is going to be a real interesting issue to watch. Already, I've heard some people say this project is a better deal for the city than the Treanor Architects project. That project wasn't attracting a new business to town — instead it just moved it from one area of town to another — and it didn't bring any new sales tax dollars to the city. In this case, that could be significant. According to estimates I've seen, an Olive Garden in Lawrence is expected to generate about $5 million in annual sales. That would result in about $125,000 a year in sales tax collections for the city and the county.
But unlike the Treanor project, this development doesn't center around fairly well paying architecture jobs. But it will produce new jobs. An Olive Garden likely would employ about 75 full and part-time employees, but I would not be surprised to hear discussion about whether the jobs pay enough to justify a property tax break. Currently, companies that apply for a traditional tax abatement in Lawrence must pay a living wage, which is more than $9 an hour. That's not currently a requirement with the Neighborhood Revitalization Act.
And finally, I expect to hear from some other local restaurant owners about whether a property tax break to one restaurant creates an unlevel playing field in the restaurant industry. That will be a particularly interesting discussion, given that Commissioner Schumm is in the local restaurant industry.
• While we're talking about sales taxes, Lawrence got a nice boost earlier this year. As we reported, the Briggs Auto Group was successful in bringing a Chrysler, Dodge, Jeep and Ram dealership back to the city. Having that major auto brand back in town will help with sales tax collections. There's nothing quite like auto sales to boost the city's sales tax take. As one longtime budget-maker at City Hall says: It takes a lot of T-shirt sales to equal one car sale. Anyway, Briggs is making a splash back into the market. It is promising to give away a car this summer. All you have to do is guess the day that it will first reach 101 degrees in Lawrence. If nobody guesses it exactly, the person closest to the date will win. Up for grabs is a 2003 PT Cruiser. Briggs has set up an official thermometer on its Web site to be the arbitrator in this contest. To enter, go to briggsauto.com. Be prepared to not only guess the date, but also the time. That will be used to break any ties.
• Here is an area to avoid in southeast Lawrence for a few days. City crews will have the 2700 block of Ponderosa and Bonanza shut down this week for patching and mill and overlay work. No through-traffic will be allowed on the two residential streets. The streets are expected to reopen next week.
Copyright 2018 The Lawrence Journal-World. All rights reserved. This material may not be published, broadcast, rewritten or redistributed. We strive to uphold our values for every story published.