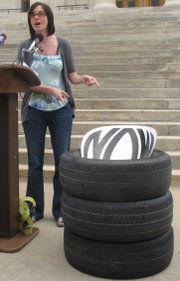 Topeka — Abortion rights supporters Wednesday criticized Kansas legislators for approving controversial abortion restrictions and making controversial comments along the way.
"Far too many Kansas legislators feel women's health doesn't matter," said Sarah Gillooly, a lobbyist for Planned Parenthood of Kansas and Mid-Missouri. She said the 2011 legislative session, which concluded Wednesday, was a "war on women."
The Kansas chapter of the National Organization for Women demanded that Rep. Pete DeGraaf, R-Mulvane, apologize for a comment he made during debate May 13 on a bill requiring women to buy additional insurance to cover abortion; coverage that could only be used to save the life of the mother.
During that debate, Rep. Barbara Bollier, R-Mission Hills, noted that abortions would not be covered for cases of rape and incest.
DeGraaf responded, "We do need to plan ahead, don't we, in life?"
Bollier then asked, "And so, women need to plan ahead for issues that they have no control over with pregnancy?"
DeGraaf responded, "I have a spare tire in my car. I also have life insurance. I have a lot of things that I plan ahead for."
NOW State Coordinator Kari Ann Rinker said the remarks trivialized rape and were demeaning to women.
Asked by the Lawrence Journal-World if he wanted to explain further what he meant, DeGraaf said his comments were taken out of context and "grossly misrepresented." When asked how, he declined to say. He said it was time to "move on."
Rinker had brought three spare tires with her to the Capitol and wanted to give them to DeGraaf, but she was prevented by police from bringing them into the building.
Several legislators who support abortion rights were at the Kansas NOW news conference including Sen. Marci Francisco and Rep. Barbara Ballard, both Democrats from Lawrence.
Abortion opponents hailed the 2011 session as a success.
"We have established a beachhead of protection for the developing unborn child based on accurate medical knowledge about the human capacity to feel pain and responded to the public's ever-growing revulsion to direct and indirect funding of abortion businesses," said Kathy Ostrowski, legislative director for Kansans for Life.
In addition to the abortion insurance law, the Legislature passed and Gov. Sam Brownback signed into law bills that will:
Require annual, unannounced inspections of abortion clinics, impose new rules for them and prevent the clinics from prescribing over the phone the use of pregnancy terminating drugs.
Direct $334,000 in federal family planning funds to local health clinics instead of Planned Parenthood clinics.
In the case of a minor, require a doctor to obtain consent from at least one parent or guardian, and both parents if they are still married.
Prohibit abortions after the 21st week of pregnancy unless the woman or girl's life is in danger or unless she faces substantial and permanent harm to her physical health.
Copyright 2018 The Lawrence Journal-World. All rights reserved. This material may not be published, broadcast, rewritten or redistributed. We strive to uphold our values for every story published.