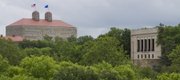 Subscribe to the email edition of Heard on the Hill and we'll deliver you the latest KU news and notes every weekday at noon.
Your daily dose of news, notes and links from around Kansas University.
• With summer settling in at KU, the pace of news has slowed a bit, but we've still got a few items to report.
First, I spotted an interesting lawsuit that deals with the way copyright law applies to the classroom. The court case — Cambridge University Press et al. v. Patton et al — will be one to watch, for sure.
As explained in the Wall Street Journal, the current law allows professors to make multiple copies of copyrighted material for classroom use without charge.
But big packets of documents — multiple articles in course packs — require permission, and that usually means students have to fork over cash for them.
I ran into that when I was a student at KU, but the latest lawsuit is striking back against professors who make the material available online to students for free.
The Wall Street Journal got an opinion from David Shulenburger, the former KU provost, who is now a senior fellow at the Association of Public and Land-Grant Universities (an organization whose name has improved from the previous National Association of State Universities and Land-Grant Colleges, or the extremely unwieldy acronym NASULGC).
He didn't hold back, calling the lawsuit "part of an undeclared war on academic fair use. … This stunning money grab should serve as a wake-up call to academics; it shows that our core interest — the widest possible access to information, especially in the classroom — is in direct conflict with the interests of some of the publishers to whom we have entrusted our scholarship."
• A KU Medical Center professor earned a mention in USA Today discussing a study that reports that stress does not increase the risk of getting multiple sclerosis.
The study, published in the journal Neurology, reported no significantly higher risk of MS among those reporting severe stress or physical or sexual abuse.
Sharon Lynch, director of the Multiple Sclerosis Clinic at the University of Kansas Medical Center in Kansas City, says it's a good study; but added that "stress to one person is not stress to another."
• This year, the KU chancellor again encouraged students at commencement to take photos of themselves and email them in to KU so they could be posted on Facebook.
That has happened, and you can look at the results here.
• The best way to beat the heat is to submit tips for Heard on the Hill. That might not be 100 percent true, but you should submit tips anyway. Just send me an email at ahyland@ljworld.com.
Copyright 2018 The Lawrence Journal-World. All rights reserved. This material may not be published, broadcast, rewritten or redistributed. We strive to uphold our values for every story published.