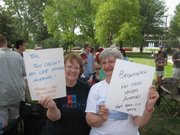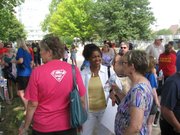 Topeka — Several hundred supporters of public education on Saturday criticized state funding cuts to schools and sounded the alarm about Gov. Sam Brownback's agenda.
Kathy Cook, executive director of Kansas Families for Education, said Brownback's stated intention to cut the state income tax would reduce revenue available for education.
"Our schools would face cuts like they've never seen before," Cook said to rally-goers outside the Capitol.
Brownback has said Kansas' tax structure needs to be changed to attract more businesses and improve the economy.
And House Minority Leader Paul Davis, D-Lawrence, said next year's fight in the Legislature will be between "restoring cuts to eduction or tax cuts for big business."
Since Brownback has taken office, base state aid has been cut by $232 per student bringing it to $3,780 per student, which is the lowest level since 1999. Brownback has defended his actions, saying they were necessary to balance the state budget in tough economic times.
Mark Desetti, with the Kansas National Education Association, said Brownback and the Legislature have approved "20th century funding for a 21st century education."
Brownback has also said he wants to overhaul the school finance system because it is frequently under legal challenge. School supporters at the rally said they didn't see anything good coming out of that.
A group of Lawrence teachers attended the event.
Lori Greenfield, a fourth-grade teacher at Prairie Park Elementary, said budget cuts are forcing larger class sizes, which makes it more difficult to reach each student.
"It's all a numbers game versus being about the students," she said.
David Reber, a biology teacher at Free State High School, said he was tired of public officials "undermining and acting against the interests of public education."
He said what is happening in Kansas is part of a national trend by politicians on the right "to degrade public schools."
Deena Burnett, president of the Lawrence Education Association, and a teacher at West Middle School, said people need to wake up.
"If we don't get out of our homes and become vocal, everything will be privatized," she said.
The rally was held in conjunction with similar events across the nation.
It was sponsored by Kansas Families for Education, Kansas NEA, and the American Federation of Teachers-Kansas. Several other unions showed support at the rally.
Copyright 2018 The Lawrence Journal-World. All rights reserved. This material may not be published, broadcast, rewritten or redistributed. We strive to uphold our values for every story published.