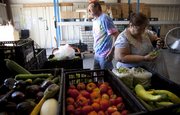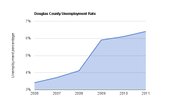 It wasn't supposed to be like this.
Roy and Dorothy "Dodie" Coker raised children in Lawrence, worked for years at local businesses, and for 17 years steadily paid the mortgage on their home on Pawnee Street.
Roy, 58, and Dodie, 61, should be slowing down, getting ready for retirement, enjoying weekends with their three grown children and spoiling their four grandchildren.
Instead, the Cokers are learning their way around the local social service system, scratching and clawing to pay the bills.
They've been to an area food pantry for the first time, filled out applications at SRS, and begun selling possessions — all with the goal of not losing their home.
"My expectation is that my next address will be the homeless shelter," Roy said.
The couple is one of many trying to prevent the growing threat of "situational poverty" plaguing people across the country, said Donna Beegle, a poverty researcher and educator.
"That's really our latest epidemic," she said.
The Cokers are finding out the hard way that it's getting more difficult to live the lifestyle they're accustomed to. This year, they'll probably join the 20 percent of Douglas County residents who fall under the poverty level — about $14,000 for a couple.
That'd just about cover the mortgage, but not much else. Add in some unfortunate events — such as health problems — and a couple like the Cokers barely have a chance in today's economy.
'Black cloud'
On a recent weekday, Roy hobbled around his home as he and Dodie prepared for their second visit to the food bank.
"It was a rough night," said Roy, referring to another sleepless evening, because of a hernia on his left side that needs surgery.
He popped another pain pill and steadied himself for the trip to the Just Food pantry. They've already received their allotted monthly bag of food from the pantry, but they can stop by whenever they need to, to pick up fresh produce and bread.
The financial troubles the couple face trickled in, culminating with a bankruptcy filing last year. The troubles are now showering down on them, threatening their home and mental stability.
"Nothing's working out right," Roy said.
Roy had worked for Kmart Distribution Center for 22 years, but lost that job earlier this year.
He found part-time work as a stocker at a local business, making $9 an hour. He worked there for about a month, but during one of his shifts in June, Roy lifted some boxes and felt a sharp pain in his stomach. Off work for two days, his employer sent him to the worker health clinic the company participates in at Lawrence Memorial Hospital. Doctors told him he had a hernia and would need surgery.
Are you among those living on the brink?
From Census figures and other data, here are some estimates for the cost of living.
• Median housing cost in Douglas County each month, including rent/mortgage, utilities, insurance and taxes: $1,423.
• Monthly food costs for family of four: $972
• National average adult monthly debt payments (credit cards and student loans): $211
• National average per-person credit card debt: $5,100
• Monthly cost of having a vehicle, including payments, gasoline, insurance, repairs: $609
• Annual health insurance premium: $4,824 for one person, $13,375 for a family.
• Estimated total monthly cost for a family: $4,330
• Average Douglas County family median income: $5,416, before taxes.
His employer has 90 days through workers' compensation laws to determine whether the injury was job-related, leaving Roy in a painful holding pattern. The Cokers have health insurance from his past job through COBRA, but that will run out by the time the 90 days is up in August. So, Roy waits for the medical treatment, and isn't able to work. He said he's skeptical about what the determination of the workers' compensation claim will be. He said his employer has repeatedly brushed off his phone calls.
Priority No. 1 for the couple, Dodie said, is Roy's health.
"He needs to get that operated on," said Dodie, who has health problems of her own.
She had a hysterectomy earlier this year because of the discovery of some pre-cancerous cells. She recovered, but a few weeks ago some friends, aware of the couple's struggles, offered to take her to a movie to cheer her up. At the movie, Dodie slipped, breaking her elbow and spraining her ankle.
"There's a black cloud over my head," she said.
Since the injury, she's been off work from her part-time job at Children's Learning Center. Despite her injuries, she'll be going back to work soon, and said her employer has made arrangements to accommodate her injuries.
At this point, the couple need "some money coming in," she said.
Dodie receives nearly $800 a month in retirement from a previous job. Roy isn't bringing in any income. Even with Dodie working part time, it'll be difficult to cover the $1,100 monthly mortgage. Then there's the medical bills, piling up on their kitchen table. Going to the mailbox is now a dreaded daily chore.
Between the two of them, they've racked up thousands in medical bills.
Not alone
It's unknown how many families like the Cokers are at risk of losing their home locally or across the country. But the numbers hint that the Cokers are probably joined by millions of other Americans.
The causes are wide, varied and systemic, Beegle said, citing high unemployment, the housing and credit crunch, and few safety nets for people in the Cokers' situation.
The Cokers were unable to make their mortgage payment for the first time in June, and there doesn't seem to be any program out there to fill that gap. Roy has insurance on the home that could lower his payment temporarily in case he is injured at work, but his employer has refused to fill out the paperwork, he said.
In visits to social service agencies, they've found no quick fix. There are some programs available, but the couple doesn't seem to fit neatly into any of the criteria for housing assistance.
Charlotte Knoche, director of housing assistance for the Lawrence-Douglas County Housing Authority, spoke about some options for the couple, such as rental assistance — if the couple lose their home — for people over age 50. The problem: a nine-month to two-year waiting list.
Many of the available programs are also small in scale, such as utility assistance and housing rehabilitation, said Margene Swarts, city of Lawrence community developer manager and coordinator of the Community Commission on Homelessness. But large-scale assistance isn't as available, making homelessness a real threat for people like the Cokers.
"I hear more and more about how many homeless families we see," Swarts said.
In Douglas County, the number of home foreclosures — what the Cokers hope to avoid — has skyrocketed. In 2006, there were 84 homes in Douglas County auctioned because of foreclosure. In 2010, that number jumped to 214.
Sally Bartlett, supervising case manager at the Lawrence Community Shelter, said the shelter sees a few families who are homeless for the first time. With the current economic climate, Bartlett said there's a real concern that more will follow in coming months and years.
While Kansas and Douglas County have kept unemployment rates below national numbers, the area has seen a marked increase since May 2006, when the rate was 3.4 percent. In May of this year, the unemployment rate was 5.7 percent.
Roy doesn't expect to return to his job stocking, as the hernia has already showed him the work is probably too much for his age. When he's healthy, he's hoping to find work somewhere, anywhere, he said.
Waiting game
Until Roy hears back about the workers' compensation claim, he has no income. He can't work until the hernia is fixed, which can't be done until the claim is settled.
He's sold his truck. He and Dodie now share her 2006 Toyota Camry.
They've told few friends or family about their economic troubles.
"I'm embarrassed," Dodie said.
She and Roy are still trying to come to grips with needing help.
"I'd rather be a giver than a taker," Roy said.
Recently, a neighbor gave Roy $100 to help pay the utility bills. They didn't want to accept the gift, but had no choice.
"You do what you have to do," said Dodie, who talked about one day — when they're back on their feet — donating to the food pantry that has helped them. "I'm grateful for what's out there."
After taking out two mortgages, the couple are in a tough position with their home. They owe about as much as it's worth. At this point, they've considered walking away from the home and downsizing to an apartment — something they talk about reluctantly.
Roy talked about all the work he's put into the house the past 17 years. Dodie talked about raising their kids in the house.
"This is my home," she said.
Dodie will soon be eligible for Social Security retirement benefits, which she plans to take early at age 62, rather than waiting for the larger monthly payment she could receive at 67.
While they wait, they try to stay positive.
"For a week, (losing the home) is all we talked about," Dodie said. "It's driving me crazy."
Roy said he's been overwhelmed by the anxiety, sending him into depression — made worse by the waiting. Between the two, Roy is more pessimistic about their prospects, and has called the Lawrence Community Shelter to find out if there's room for the couple.
"That's reality," he said.
Dodie, on the other hand, keeps saying she'll do whatever it takes to get back on their feet.
When she hears Roy talk about losing the house and moving into a shelter, Dodie says, "Not if I can help it."
Copyright 2018 The Lawrence Journal-World. All rights reserved. This material may not be published, broadcast, rewritten or redistributed. We strive to uphold our values for every story published.