Photo Gallery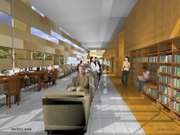 Updated Lawrence Public Library expansion renderings
The Lawrence Public Library will host another round of public comment about the proposed design for a $19 million expansion of the library.
The meeting will be at 2 p.m. Aug. 6 at the library, 707 Vt. The event will feature a presentation from architects for the project and will include time for the public to ask questions or make comments about the design.
The project includes an expansion of about 20,000 square feet of the downtown library and the construction of a new 250-space parking garage.
Copyright 2018 The Lawrence Journal-World. All rights reserved. This material may not be published, broadcast, rewritten or redistributed. We strive to uphold our values for every story published.