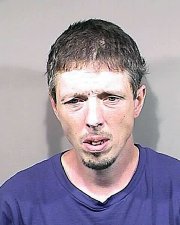 A Minnesota man charged with kidnapping his wife also has been named as a suspect in a July 15 bank robbery in Ottawa.
Bridget Patton, public affairs specialist for the FBI in Kansas City, said Timothy Glen Caskey matches the physical description of the bank robbery suspect. Patton said Caskey has not been charged with the bank robbery.
Authorities allege that Caskey abducted his wife, Roberta Caskey, on July 14 as she walked with a friend in Virginia, Minn. Timothy Caskey had just been released from a jail near Duluth, which is about an hour south of Virginia, where he'd been held on charges of violating a protective order against his wife.
The following day, on July 15, a man entered Great Southern Bank in Ottawa and handed the teller a note demanding money. The suspect did not show a weapon and fled with an undisclosed amount of cash in a red pickup truck. A woman was a passenger in the red truck.
Ottawa is about 640 miles southwest along Interstate 35 from Duluth.
The next day, a used-car dealer in New Braunfels, Texas, reported seeing a couple matching the Caskeys' description. Police said the man asked to test drive a white 1998 Chevrolet Z71 truck and provided Timothy Caskey's driver's license in exchange.
The man drove the truck off the lot but didn't return with it. Police then recovered Caskey's red 1991 GMC Sierra truck, with a knife under the seat, at the dealership.
New Braunfels, also along I-35, is about 730 miles southwest of Ottawa and about 190 miles from the Mexican border.
Detective Tim Koivunen of the Virginia Police Department said Timothy Caskey has previously been arrested in Mexico so it's possible he was headed there again. Caskey's criminal record includes domestic violence, carjacking and drug charges.
Caskey faces federal kidnapping charges, and Minnesota police issued arrest warrants for false imprisonment and parole violation. The FBI is offering $5,000 for information leading to his arrest.
Copyright 2018 The Lawrence Journal-World. All rights reserved. This material may not be published, broadcast, rewritten or redistributed. We strive to uphold our values for every story published.